2016 AMA ATV Motocross
Round #5 High Point
Mount Morris, PA
May 21, 2016

Joel Hetrick Wins ATV Stampede at High Point Raceway
Chad Wienen & Ronnie Higgerson round out ATV Motocross Podium
2016 AMA ATV Motocross
Round 5 - Links
Mount Morris, PA (5/22/2016) – An abundant amount of rainfall occurred at High Point Raceway creating a slick and muddy track for the fifth round of the ProX ATV Motocross National Championship (ATVMX) presented by CST Tires, an AMA National Championship. The track crew worked diligently to create the best racecourse possible and at the conclusion of the two 20-minute motos it was Maxxis/Elka Suspension/Liquid Wrench's Joel Hetrick who took home the overall win with 2-1 moto finishes.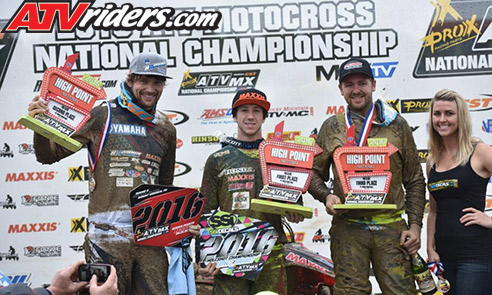 High Point - Round 5 - Pro ATV Motocross Podium (left to right)
Chad Wienen (2nd), Joel Hetrick (1st), Ronnie Higgerson (3rd)
Hetrick kicked off the day turning the fastest lap time in the timed qualifying sessions earning him the ATVriders.com Top Qualifier Award. Hetrick looked to use that momentum heading into the motos in order to take the win in front of his hometown crowd.
Once the gate dropped for the first moto it was an all-out battle amongst the world's fastest ATV racers to get into the first turn. It would be Wienen Motorsports/Yamaha/Maxxis/SSi Decals/Walsh Racecraft/FLY Racing's Chad Wienen taking the early lead and earning himself a point in the SSi Decals Holeshot competition. This would prove to be a vital part of Wienen's first moto success. While Wienen held the lead position, Hetrick was on his rear wheels in second.
Chad Wienen grabbed the SSi Decals Holeshot Award in the first moto
It would not take long for Wienen and Hetrick to pull a large gap over the rest of the field leaving a battle for third. Maxxis/Root River Racing/JB Racing's Thomas Brown led both Maxxis/FLY Racing/Baldwin Motorsports' John Natalie and Savage Motorsports/Maxxis/Walsh Racecraft/Elka Suspension/BCS Performance's Ronnie Higgerson.
Hetrick would put forth his best effort to pass Wienen, but it would not be enough as Wienen was the first to see the checkered flag with Hetrick right behind him. Brown would end up crossing the line in third after a hard fought race.
"With the muddy weather here today, it feels great to be able to rip a holeshot in the first moto," said Wienen. "The second moto just kind of flip-flopped. I knew there wasn't going to be any sort of real racing going on with the conditions. I'm just happy with the day's results and to leave here with the points lead."
While track conditions were undesirable for the first moto, by the time it was 4 p.m. the second moto faced even more rain with a heavy downpour leading up to the gate drop. Once the gate dropped Root River Racing/Hoosier Tires/Rage ATV's Josh Upperman found himself in a favorable position, but Hetrick would make a last minute charge to earn the SSi Decals Holeshot Award.
After battling up the muddy start straight Wienen was mid-pack but was able to work his way into second by the time he reached the holeshot line. As the race wore on Hetrick and Wienen would stay in first and second. Meanwhile, Higgerson was running his best race and holding the third place position.
Once the white flag came out Hetrick was in first with a commanding lead, but would encounter a hiccup in his race when his quad started smoking. With the smoke being behind him, Hetrick was unable to see just how bad it was but knew he had to carefully maneuver the last half of the track. Hetrick's quad would continue to hold together as he crossed the finish line claiming the moto win which also resulted in the overall win. This result would mark Hetrick's third ATV Stampede win and third straight victory this season.
"I saw it smoking, but I didn't realize how bad it was," said Hetrick. "I tried to baby it and rode a little slower. I knew I could finish if I barely gave it any gas and that's what I did. It was definitely scary but I'm just happy it all held together to make it three-in-a-row today in front of my hometown crowd."
Joel Hetrick made it three-in-a-row taking the overall win
::CONTINUED::