2016 AMA ATV Motocross
Round #5 High Point
Mount Morris, PA
May 21, 2016

High Point AMA ATV Motocross Amateur Report
AMA ATV Motocross - High Point - Round 5
2016 AMA ATV Motocross
Round 5 - Links
Mt Morris, PA (5/27/2016) - The fifth round of the 2016 AMA ATV Motocross National Championship was held at High Point Raceway in Mount Morris, PA May 21-22. Despite muddy track conditions, amateur racers from around the country gathered to compete for championship points and moto wins all weekend long.

One of the best classes to watch was Pro Sport, where Westley Wolf clinched the overall win. Wolfe won the first moto by over four seconds, but took a fourth in the second moto and still came out with the overall win. Wolfe captured the fastest lap of the class in moto two by nearly two seconds.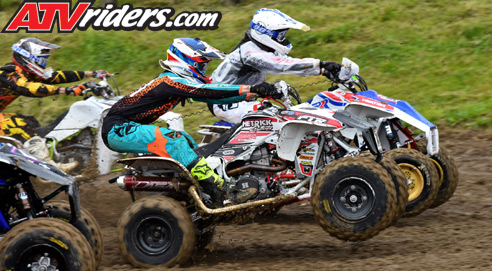 Westley Wolfe
Cole Sepesi came in second overall in Pro Sport. Sepesi suffered a sixth place finish in the first moto but rebounded strong in moto two with a first for second overall. Sepesi now holds a 16-point lead in the championship points.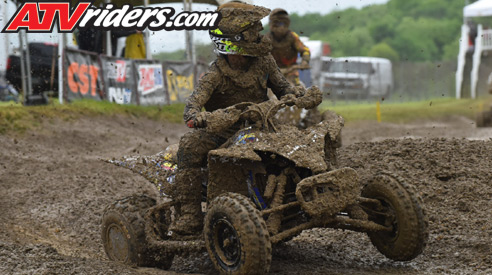 Cole Sepesi
Rounding out the Pro Sport podium was Zach Kaczmarzyk with impressive 5-2 moto finishes.
Parker Wewerka took fourth overall, and Brian Nolt rounded out the top five.
Cody Ford dominated College 16-24. Ford won both his heat race and the second moto for first overall, and took the fastest lap of the class each race. He is tied for second in points.
Cody Ford
Drake Koelling went 1-2 for second overall in College. Koelling blew away the competition in his heat race, winning by over eleven seconds.
In third was Grayson Eller. Eller put in a solid two motos, taking second in his heat race and fourth in moto two for third overall. Eller leads the points by four heading into the sixth round.
Grayson Eller