2016 AMA ATV Motocross
Round #4 Ironman Raceway
Crawfordsville, IN
May 7, 2016

Joel Hetrick Makes it Two in a Row at Ironman ATV MX
Pro ATV Motocross - Ironman Raceway - Round 4
2016 AMA ATV Motocross
Round 4 - Links
Crawfordsville, IN (5/8/2016) – The 2016 ProX ATV Motocross National Championship (ATVMX) presented by CST Tires, an AMA National Championship, continued today, May 7, at the iconic Ironman Raceway in Crawfordsville, Indiana. The rain began to fall right before the second timed qualifying session creating a rough and rutted track, but Maxxis/Elka Suspension/Liquid Wrench's Joel Hetrick conquered the obstacles to come out with the overall win. Wienen Motorsports / Yamaha / Maxxis / SSi Decals / Walsh Racecraft / FLY Racing's Chad Wienen and JB Racing/Root River Racing/Gold Speed Tires' Jeffrey Rastrelli rounded out the overall podium in second and third.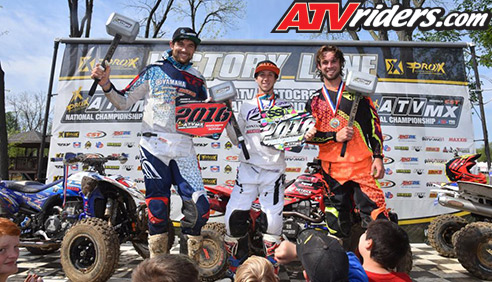 Ironman MX - Round 4 - Pro ATV Motocross Podium (left to right)
Chad Wienen (2nd), Joel Hetrick (1st), Jeffrey Rastrelli (3rd)
Once the gate dropped for the first moto it was Wienen who jumped out to the early lead and claimed the SSi Decals Holeshot Award. Root River Racing/Hoosier Tires/Rage ATV's Josh Upperman found himself in a favorable position where he came out of the first turn in second. Hetrick was stuck mid-pack, but was able to work his way into the top three once after lap one was complete.
Maxxis' Chad Wienen grabbed the Moto One Holeshot & went on to take the win
Hetrick made quick work and moved into second on the second lap, with Upperman remaining in third. Perhaps one of the best battles of the race was for the fourth place position between Rastrelli, Maxxis/Root River Racing/JB Racing's Thomas Brown and Maxxis/FLY Racing/Baldwin Motorsports' John Natalie. The three racers continued to switch places throughout the latter half of the race.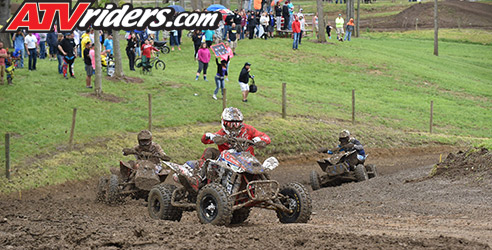 Hoosier's Josh Upperman finished fourth overall after a third place finish in moto one
While the battle for fourth was going on behind them, Hetrick was busy charging for the lead. After getting around Upperman Hetrick had his eyes set on Wienen. Due to his unfavorable start, Hetrick had to throw his goggles off in an attempt for better vision. After putting forth his best effort, Hetrick was unable to make the pass at the end of the 15-minute moto finishing just a tenth of a second behind Wienen.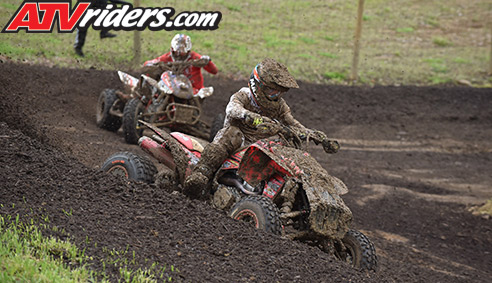 Maxxiss' Joel Hetrick charged to a 2nd place finish in Moto One
Wienen would end up seeing the checkered flag first followed by Hetrick and Upperman. With the battle for fourth winding down with a couple of laps remaining it was Rastrelli taking the position followed by Natalie in fifth and Brown in sixth.
"I had a bad holeshot in the first moto and missed a shift," said Hetrick. "I ended up having to take my goggles off and it was pretty hard to follow that close behind without goggles, but I had an epic battle with Chad and just couldn't make the pass."
::CONTINUED::