AMA ATV Motocross Nationals
Round #10 - Loretta Lynn's
Hurricane Mills, TN
August 11, 2012

Chad Wienen Clinches 2012 AMA Pro ATV MX Championship
::Continued::
Meanwhile, things heated up for the third place spot as Brown, Byrd, Hetrick, Wienen and even rookie Jeffrey Rastrelli engaged in battle for a majority of Moto 2. Brown eventually pulled away from the pack, where Hetrick and Wienen were banging bars while attempting to get around Byrd, who eventually pulled off the track just after Hetrick and Wienen passed him for a top five spot.
DASA Racing's #7 Joe Byrd came out in the 2nd spot in Moto 2 & held off Yamaha's #84 Thomas Brown & #44 Chad Wienen for several laps before Byrd experienced issues
Soon after, Wienen was past Hetrick and applying pressure on Brown for third and the Yamaha duo pushed until the checkers-Brown coming out on top for third. His 5-3 moto scores weren't enough to secure a top five overall, however.
Yamaha's #84 Thomas Brown was able to hold off #44 Chad Wienen in Moto 2 to secure the third spot followed by Wienen in 4th, which was enough for Wienen to claim the final spot on the Podium one point ahead of #9 Josh Creamer
Natalie went on to win Moto 2 and the overall for the day with 4-1 scores, but it wasn't enough to keep Wienen from taking the 2012 championship title. With 3-4 finishes, Wienen took a consistent approach to finish third overall.
Motoworks' #1 John Natalie Jr was on a mission in Moto 2 as he made the pass on #9 Josh Creamer to take over the lead & Natalie would go on to claim the Moto win, which earned Natalie his first ever Loretta Lynn's Overall Win to finish out the year
"Obviously another championship would have been nice, but I'm really happy with today's win," Natalie said. "I'm just lucky to be able to leave here healthy and enjoy time with my wife and daughter."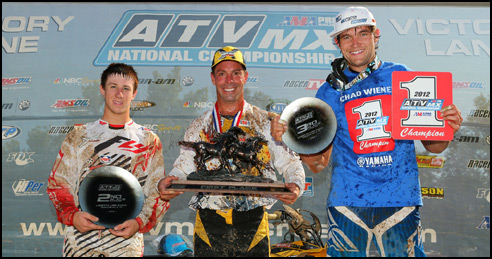 Pro ATV Motocross Podium (left to right)
Joel Hetrick (2nd), John Natalie (1st), Chad Wienen (3rd)
Hetrick went 1-5 for second overall, while Creamer and Upperman swapped 2-6 finishes to round out the top five.