AMA ATV Motocross Nationals
Round #9 - Red Bud MX
Buchanan, Michigan
July 28, 2012

AMA Pro ATV Motocross - Round 9 - Red Bud - Race Report
::Continued::
Baldwin Motorsports' Josh Upperman had a good start in the first moto in the number three spot. Upperman held his position for several laps before Chad Wienen made the pass on him. Upperman rode a solid race and held off several attempts from Josh Creamer and claimed fourth at the checkered flag.
In Moto Two, Baldwin Motorsport's #20 Josh Upperman grabbed the Moto 2 Holeshot with Yamaha's #84 Thomas Brown in chase. #44 Chad Wienen & #1 John Natalie connected on the start with Natalie flipping over
For moto two, Upperman did what he does best and grabbed the holeshot. Upperman led for several laps before Chad Wienen was able to make the pass on him. Once in second Upperman stayed close and was able to hang on for a second place finish.
"It was a tough race and the track was getting pretty rough, but I felt good out there and I was able to get on the podium. I have to thank Baldwin Motorsports, PEP and all of our sponsors for helping me be on the podium today," said Upperman.
Can-am/Motoworks' John Natalie, Jr. was on a mission to take the win at Red Bud and close in on the points lead. For the first moto, Natalie grabbed the holeshot.
DWT's #13 John Natalie Jr grabbed the Moto One Holeshot followed by #84 Thomas Brown
Natalie went wide and blew the berm in the second lap, allowing Thomas Brown to slip by. Natalie charged hard and after a few laps, was able to retake the lead and put a 4 second gap between him and the rest of the pack.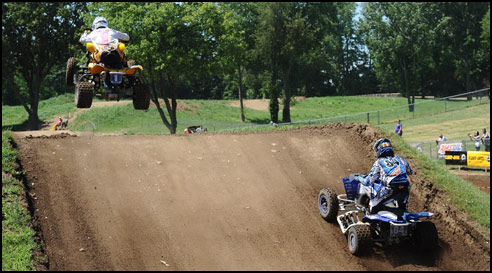 DWT's #13 John Natalie Jr lost the lead briefly to #84 Thomas Brown before regaining the lead in lap four with Natalie making the passs in a turn before the RedBud tabletop
Natalie was able to hold his lead and claim the moto one win. "I made a mistake out there and fell back, but I was able to pass back and take back the lead and get the win," said Natalie after the first moto.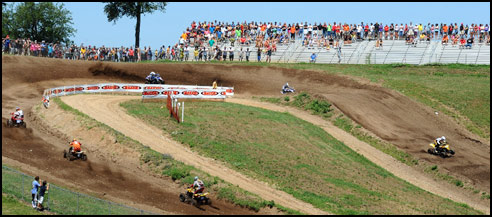 Motowork's #13 John Natalie Jr would go on to record the fastest laptime of the moto with a time of 02:13.720 in lap 5 as Natalie stayed ahead of the field as he raced to the Moto One win
Moto two did not go well for Natalie however as he went down hard off the start. "I was going for one line and got shut out and ended up going down. I was pretty fired up after that and tried to charge as hard as I could and I was able to get up to sixth," said Natalie, whose efforts put him in third on the pro podium.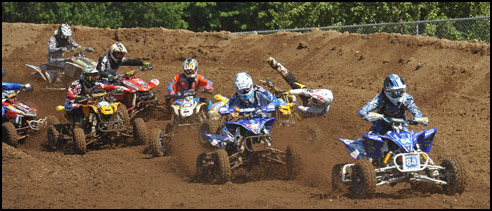 DWT's #13 John Natalie Jr went down hard in Moto 2, which sent Natalie to the back of the pack