AMA ATV Motocross Nationals
Round #6 - High Point MX
Mt Morris, PA
June 16, 2012

AMA Pro ATV Motocross - Round 6 - High Point - Race Report
::Continued::
Baldwin Motorsports' Josh Upperman was going for the moto one holeshot, but after colliding with Chad Wienen, he was at the back of the pack. Upperman also made an impressive charge and was able to work his way up to a fifth place finish.
Baldwin's #20 Josh Upperman grabbed the Moto 2 Holeshot
Upperman got a much better start for moto two and was looking strong as he held down the number five position for several laps. Upperman was able to make the pass on Joel Hetrick and take over fourth just past the midway point of the moto, and he held that position all the way to the checkered flag. Upperman's 5-4 finishes allowed him to edge out Hetrick for fourth overall.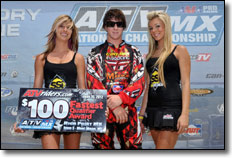 Can-Am's #88 Joel Hetrick claimed the ATVRiders.com Fastest Qualifier Award

Joel Hetrick was the ATVriders.com fastest qualifier again this weekend ad was looking strong as he charged off the start in second. Hetrick challenged Natalie and took the lead in lap three, but Hetrick ran into issues in lap five when his thumb throttle came loose and he had to pull off the track briefly, which sent him back to third place. Hetrick kept going despite the issues, but he could not hold of Chad Wienen and settled for a fourth place finish.

In the second moto, Hetrick got a great start and was leading, but a bobble after just a few laps caused him to fall back to fourth place. Hetrick held his position, but appeared to be having issues and ended moto two in fifth place, giving him fifth overall for the day.

Houser Racing's Harold Goodman held on to finish in ninth place in the first moto, but a better start and a good race allowed him to finish in seventh, which gave him sixth overall, his best finish of the season.

Adam Clark had a solid first moto with a seventh place finish and rounded out the top ten for moto two, which put him in seventh overall.

Nick DeNoble had a good first moto and took a consistent sixth place finish, but he encountered issues in the second moto and took an eleventh place finish, putting him in eighth overall.

Mark Madl was looking strong as he worked up to sixth, but encountered issues early in moto one, causing him to pull off the track after just five laps. Moto two went much better for Madl as he started out in the number six spot and fell back to seventh briefly before regaining a position to finish in sixth, which put him in ninth overall.

Jesse Barnes took 10-8 finishes to round out the top ten, with Derek Swartfager finishing in 11th and Jonathon Ven John claiming 12th.

Jeffrey Rastrelli went down hard early in the first moto and was only able to finish three laps. Rastrelli tried to recover for moto two, but was only able to salvage points as he took a 13th place finish.

Joe Byrd sat out this round due to bronchitis, but should be back for round seven.

Round number seven of the 2012 AMA ATV Motocross Championships will head to Sunday Creek Raceway in Millfield, OH on June 30th – July 1st, where the points battles will be heating up with only four rounds left in the season.