AMA ATV Motocross Nationals
Round #11 - Loretta Lynn's
Hurricane Mills, TN
August 13, 2011

AMA ATV MX Nationals - Loretta Lynn's- Pro ATV Race Report
John Natalie Wins Pro ATV Champion, Joel Hetrick Goes 1-1 for Overall Win
AMA ATV Motocross Nationals
Round #11 - Loretta Lynn's

Hurricane Mills, TN (8/13/2011) – Rookie Joel Hetrick may have won the battle at Loretta Lynn's, but it was Can-Am/Motoworks' John Natalie, Jr. who won the war and was crowned the new 2011 AMA ATV Motocross Pro Champion after a tough second moto that almost dashed his hopes of winning.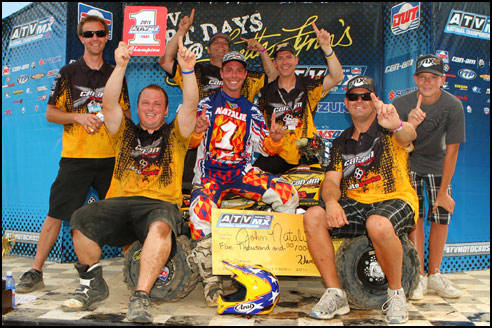 Can-Am / Motoworks / DWT's #13 John Natalie clinches the 2011 AMA Pro ATV Motocross Championship at Loretta Lynn's in an exciting season finale
Unlike last season, where high temps and humidity were almost unbearable, the weather at Loretta Lynn's was fairly decent with temps only at the 90 degree mark, and a nice breeze helped to keep the humidity at bay. Showers were in the forecast but held off for the final battle of the season between points leaders John Natalie, Jr. and Josh Upperman that ended with an intense second moto that allowed Joel Hetrick to take his second overall pro win.
The normally miserably hot Loretta Lynn's season finale was fairly pleasant for 2011 with a light breeze and temps in the low 90's, which was an added bonus for the spectators that lined the track to watch an exciting race for the Pro ATV Motocross Championship between #13 John Natalie and #20 Josh Upperman
Joel Hetrick was looking good for the final round of the season as he took the ATVRiders.com fastest qualifier award and followed it up with the moto one holeshot. Hetrick held the lead for a couple of laps but was under constant pressure from Chase Snapp.
Hetrick Racing's #88 Joel Hetrick grabbed the Moto One Holeshot by edging out DASA Racing's #7 Joe Byrd

JB Racing's #88 Joel Hetrick was in a heated battle early on with SSi's #48 Chase Snapp for several laps until Snapp's chain came off, which allowed Hetrick to regain the lead

Hetrick and Snapp battled and swapped positions a couple of times, leaving Hetrick in second, but Hetrick remounted a charge and would once again take the lead from Snapp.

Hetrick kept a nice gap until the final laps when John Natalie closed in, but Hetrick held him off to take the moto one win. "I felt really good out there this morning during qualifiers. I got a little tired out there for moto one but I still got the holeshot and I was able to hang on and take the win so I'm pretty happy about that. It was a great moto!" Hetrick stated.
In the final laps of the Moto, #13 John Natalie closed the gap on #88 Joel Hetrick in the lead, but Hetrick was able to hold off Natalie to claim the Moto One Win