AMA ATV Motocross Nationals
Round #11 - Loretta Lynn's
Hurricane Mills, TN
August 13, 2011

ATVMX Pro Am Production Race Report: Loretta Lynn's
Mark Madl Wins the 2011 Pro-Am Production Championship
AMA ATV Motocross Nationals
Round #11 - Loretta Lynn's

Hurricane Mills, TN (8/15/2011) – Some of the best racing action in the 2011 AMA ATV Motocross Championship Series has actually taken place in the Pro Am Production class, one of the deepest fields of talent this year.

Kentucky boy Casey Martin led Florida's Mark Madl in the championship standings by only two points heading into the final round of racing this weekend. The points battle would come down to the final two motos of the year on the most coveted and historical track on the circuit: Loretta Lynn's Ranch in Hurricane Mills, Tenn.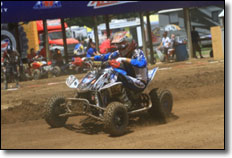 Moto-Xperts Casey Martin came up just seven points shy of winning the Pro-Am Production Championship
Casey Martin had a stellar year, but came up short to Madl for the Championship In moto one, it was the Mushin Racing/GBC Bombsquad Honda of Nick Moser with the holeshot and the early lead, until JB Racing/PEP/ITP's Jeffrey Rastrelli blitzed to the front around lap four. Blue Rok Racing/Ditch Witch's Mark Madl was just inside the top ten out of the holeshot until he worked his way up to the lead position just after the halfway mark. Rastrelli showed a burst of speed in the early part of the moto but Madl rode a consistently fast-pace throughout the entire moto, showing no signs of fatigue and eventually winning moto one by nearly ten seconds.
Casey Martin, Pro Am Production points leader stepping into the final round, started off in a favorable position to maintain his championship lead but as the moto wore on, it became harder and harder for Martin to catch up to the leaders of Madl and Rastrelli. Moser managed to stay in front of Martin to claim the third place finish in moto one, while Martin took fourth and Jesse Barnes rounded out the top five.
Jeffrey Rastrelli grabbed the holeshot in moto two but it was Mark Madl who made his way to the front of the pack before the second lap. Rastrelli was determined to keep Madl in his sights this time, though, staying within seconds of the points leader for a majority of the race. Rastrelli didn't have anything left for Madl by the end of the moto, as Madl took his second win of the day in moto two.
Casey Martin battled with Nick Moser once again in moto two, but this time Martin came out on top after Moser was only able to complete the first half of the race. Pro Motorsports/Lonestar Racing/Top Training/DASA/Dr. D backed Jesse Barnes used Moser's misfortune to move himself into the top five, just as Cole Henry brought himself up to the sixth position all the way from tenth place start.
::CONTINUED::