AMA ATV Motocross Nationals
Round #9 - Unadilla MX
New Berlin, New York
July 16, 2011

AMA ATV MX Nationals - Unadilla - Pro ATV Race Report
::Continued::
Baldwin Motorsports' Josh Upperman was in the top five off the start and put in a hard charge, working his way past Richard Pelchat and Nick DeNoble, while under pressure the entire time from John Natalie. Once in second, Upperman was able to get a little breathing room and cruised to a solid second place finish in the first moto.
PEP's #20 Josh Upperman was on the move in Moto One as he charged his way past both #46 Richard Pelchat & #123 Nick DeNoble into the 2nd spot, but he wasn't alone with #13 John Natalie in chase for nearly the entire moto till the final laps when Natalie would go from 3rd to 5th, which allowed Upperman to gain some valuable points on John Natalie jr in the tight race to the Pro ATV MX Championship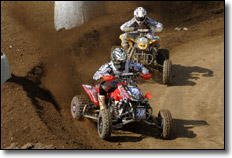 #20 Josh Upperman held off #13 John Natalie till the final laps with Natalie taking over the 2nd spot, but Upperman finished 2nd Overall, which was enough to narrow Natalie's points lead down to just 3 points with 2 rounds of racing left

In the second moto, Upperman came off the line in second behind Joel Hetrick, but he was not alone as John Natalie was right on his grab bar. Upperman kept a blistering pace and held off Natalie for most of the moto before Natalie was able to get by and take over the number two spot. Upperman stayed close and finished in third for the second moto, giving him second overall and allowing him to close the points gap on Natalie. "It was a tough race out there today. We were really battling. I just tried to put my head down and keep going. I got a little tired out there because it was so rough, but I'm up on the podium and I'm pretty happy about that," said Upperman.
IRONMAN #13 JohnNatalie Jr amazingly claimed the ATVRiders.com Fastest Qualifier Award just a few weeks after breaking his arm

Can-Am/Motoworks' John Natalie, Jr., who took the ATVRiders.com Fastest Qualifier Award, was in the number six spot off the start, after a heated encounter with Chase Snapp off the start that sent both racers off the track. Natalie still rode a solid moto despite still dealing with a broken arm. Natalie charged hard and after battling it out with Thomas Brown and again with Chase Snapp, he would work his way up to the number three spot behind Josh Upperman.

Natalie was closing in on Upperman, but Jeremy Lawson and Nick DeNoble were right behind Natalie and applying the pressure. Natalie would bobble late in the moto and allow Lawson and DeNoble to get by, sending him back for a fifth place finish.
DWT's #13 John Natalie challenged #20 Josh Upperman in both Motos, but in Moto 2, Natalie made the pass in the final laps to claim the final spot on the Podium & peserve a slim 3 point lead in the points race over Upperman

For moto two, Natalie was on a mission and flew off the line in third behind Josh Upperman. Natalie stayed right on Upperman, but the rough track prevented him several times from making a pass. Natalie decided to play it safe and waited for an opportunity and just two laps before the finish line; Natalie got around Upperman and took over the number two spot. Natalie's 5-2 finishes would put him in the number three spot on the podium.

"My hat's off to Joel Hetrick for running a great race. This track was really hard packed and hard to pass, but I gave it my all and we had a great battle out there. We had a great day and I put the Can-Am on the podium!" said Natalie, who is still clinging to the points lead.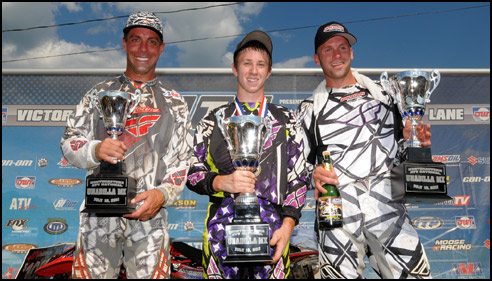 Pro ATV Motocross Podium (left to right)
John Natalie Jr (2nd), Joel Hetrick (1st), Josh Upperman (3rd)