AMA ATV Motocross Nationals
Round #5 - Sunset Ridge
Walnut, IL
May 7, 2011

AMA ATV MX Nationals - Sunset Ridge - Pro ATV Race Report
::Continued::
Yamaha's #84 Thomas Brown claimed a season best 4th Overall at Sunset Ridge MX as he begins to shine after a rough start to the 2011 season

Yamaha's Thomas Brown made a strong charge from a ninth place start to chase down Jeremy Lawson and Chase Snapp. Brown battled hard with Snapp for most of the moto taking over fifth for a time until he and Snapp connected, which sent Brown back to sixth place. Although he kept fighting, Brown was not able to reclaim the number five spot and would settle for sixth place in moto one.

In moto two, Brown was ready for battle. In moto two, Brown came off the line in sixth, right behind Chase Snapp and the war continued right where it left off in the first moto. Brown challenged Snapp several times and was able to make the pass in lap three and hold down the number five spot for the rest of the moto. Brown persistence allowed him to finish in fourth overall for the day, his best finish so far this season.
There was a heated battle between #48 Chase Snapp & #84 Thomas Brown in Moto One as the pair bounced off each other on more than one occasion as they paired swapped the 5th spot back & forth with Snapp winning the battle in Moto One for a Top 5 finish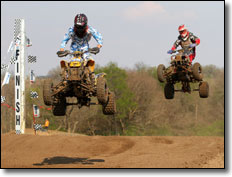 Can-Am's #48 Chase Snapp held off Honda's #7 Joe Byrd in Moto 2 to claim his second Top Five Overall finish of the season for the Pro ATV Rookie

Can-Am's Chase Snapp had his hands full as he went toe to toe with Jeremy Lawson and Thomas Brown in moto one. Snapp made his way around Lawson and then came under fire from a charging Brown. Snapp and brown were locked into battle for most of the race as they battled back and forth with Snapp finally making fifth place stick as he took the moto one checkered flag.

In moto two, Snapp was in fifth off the start and was immediately under fire from a charging Thomas Brown. After an intense battle, Snapp fell back to sixth, where he would finish out his moto. Snapp's solid motos had him rounding out the top five overall for the day, his second top five finish of the season.
Can-Am's #13 JohnNatalie Jr charged his way into the 2nd spot in Moto One

Can-Am/Motoworks' John Natalie was in second off the start behind Joel Hetrick in the first moto. Natalie came under fire from Chad Wienen right away and fell back to third. Natalie however, soon caught Joel Hetrick and played it smart, waiting for the rookie to make a mistake and after a few laps, Natalie got the opportunity he was looking for and made a clean pass on Hetrick to take over second, where he would stay until reaching the checkered flag.

"We set some blazing fast lap times and we knew it was going to get rough, but we were able to come around and do well this first moto," stated Natalie after the first moto.
Can-Am's John Natalie was on the hunt once again in Moto 2 as he chased down and passed #88 Joel Hetrick & began his charge after #44 Chad Wienen recorded the fastest lap of the race in lap 12 with a time of 01:46.734 , but as he closed the gap, Natalie's charge was ended with a trail of smoke
Unfortunately for Natalie, moto two would end in heartbreak. Natalie was looking good as he charged his way into second after fourth place start. Natalie was closing in on leader Chad Wienen and looking to make a pass in the final lap when his motor began smoking and let go just 1/3 of a lap from the finish line. Natalie's bad luck would put him back in sixth place overall and cost him the points lead.