12 Hours of La Tuque
Endurance Race
La Tuque, Quebec Canada
May 15-18, 2014
2014 12 Hours of La Tuque SxS Race Report
Can-am's Martin Horik Takes SxS Overall Win
2014 12 Hours of La Tuque Endurance Race Links
La Tuque, Quebec Canada (5/23/2014) – The 12th Annual 12 Hours of La Tuque doubled its SxS entries for this year and offered up plenty of excitement as Octane's Martin Horik took the overall win in his Can-Am Maverick with the 2013 winner, Can-Am's Yani Desjardins, claiming second overall. Adrenaline Racing's Davik Ivichek claimed the SxS Stock 851-1000 win and took third overall.
The popularity of SxS racing has also caught on in Canada and numbers at just about every event have grown, including the 12 Hours of La Tuque. Last year, there were only 9 SxS entries, but this year, there were 22 on the starting line, and thousands of spectators came out to watch the racing action.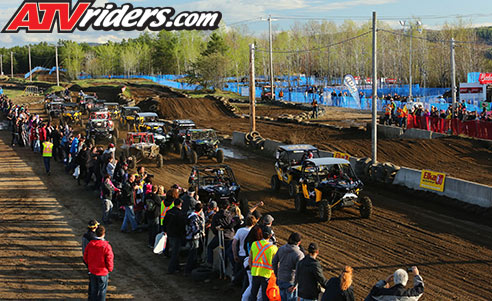 22 SxS racers lined up on the starting line for the 2014 12 Hours of La Tuque. The SxS racers competed in two 1-hour heats that determined the overall winner
There were four divisions for the Side-by-Sides; the Open 851-1000, Stock 851-1000, Open 600-850, and Stock 600-850 class. The format for the SxS racing was a little different than the ATV races.  The SxS classes only ran two 1-hour heats; with one on Saturday evening and the other on Sunday morning. The course was also shorter, with about 2 minute lap times, but did incorporate some of the ATV course as well, which also included some very rough sandy conditions. Luckily, workers groomed the track in between each session.
Martin Horik finished second in heat one driving his X Team Can-Am Maverick
In the Open 851-1000 class, X Team Can-am's Martin Horik finished heat one in the second spot on the lead lap with the 2013 winner, Yani Desjardins,  with the pair having a three lap lead over the closest competitor heading into the final one of the race.
In the second heat, Martin Horik earned the win & the overall with his 2-1 finishes
"It was a tough race and tough track. It was a pristine track to start but it got really rutted and whooped out. I was even a little scared at the end of the heat because of how rough it was and had to slow down just to make sure I would finish," stated Horik.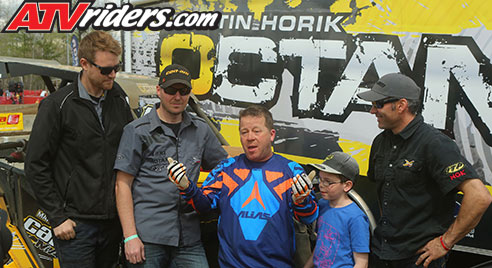 Martin Horik (center) was also filming the 12 Hours of La Tuque for an upcoming episode of Octane, which is televised in Canada
In the second heat, Horik was able to complete 34 laps, giving him a one lap advantage over Desjardins and the Open 851-1000 class win and the overall win.