12 Hours of La Tuque
Endurance Race
La Tuque, Quebec Canada
May 15-18, 2014
2014 12 Hours of La Tuque ATV Race Report
Beau Baron & David Haagsma & Matt Hancock Win
2014 12 Hours of La Tuque Endurance Race Links
La Tuque, Quebec Canada (5/21/2014) –The American Pro Motorsports/H&M Motorsports race team took on the challenge of the 12 Hours of La Tuque in Quebec, Canada and brought home the win while Canadian Can-Am/Elka team claimed second and the Yamaha Xtreme team finished third.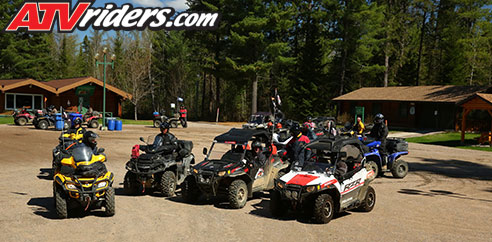 La Tuque draws in thousands of off-road enthusiasts to enjoy the great fishing & thousands of miles of ATV & SxS riding trails
The 12 hours of La Tuque is the most grueling endurance race in Canada that draws hundreds of racers and thousands of spectators each year. La Tuque is the ultimate Canadian ATV get-away location. Outdoor enthusiasts flock to the location each year for the fantastic fishing, thousands of miles of trails and the chance to drive their ATV's on the street during the month of May. The highlight of the month long festivities is the 12 Hours of La Tuque endurance race, which is held on the Victoria Day holiday weekend.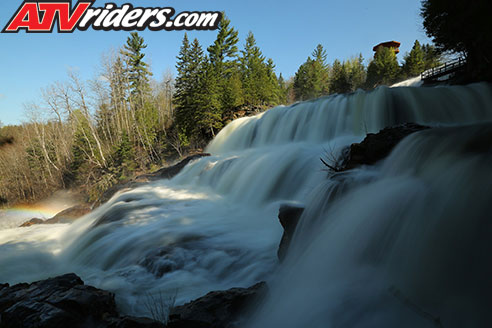 La Tuque features some of the most beautiful scenery for off-road riding
The event usually draws about 30,000 spectators, however, heavy rains and a championship hockey game on the same weekend, decreased attendance to about 15,000. Luckily the heavy rains forecast for the event diminished and conditions improved dramatically, which made for a great weekend for racing.
Many companies & food vendors were in attendance at the 2014 12 Hours of La Tuque
The quad competition is broken into three 4-hours heats, including a night heat. There were 24 ATV teams competing this year and three of those entries were solo ironman racers. This year the laps were shortened from 5 minutes down to about 3 minutes, due to adding other motorcycle racing competition that was going on simultaneously during the ATV racing.  The shortened course did bring about its challenges as the rain and shorter course made the sandy track incredibly rough over the course of each four hour heat. Luckily, the track was groomed in between heats, which made it a little better for the racers.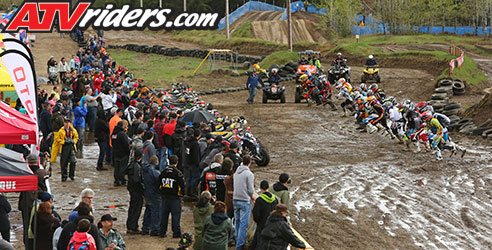 Each of the three heats features a LeMans style start where the racers have to run & start their machines
Each heat has a LeMans style start, but that didn't hinder anyone's progress as the top ATV teams were all running very close in the first heat.