Xtreme Riding Gear
Helmets, Pants, Jersey, Gloves, Chest Protector
By: Harlen Foley (ATVRiders.com Admin)
(5/26/2004) - As the 2004 race season quickly approached, I still hadn't received any responses from clothing sponsors that I had typically wore in the past. I was in desperate need for a new helmet and race gear for opening round of the GNCC series in Texas. I decided to contact some new companies that I have seen producing race gear the past few years and see if anyone would help me out for the season. With the help of Craig Peterson, ITP Tires, I contacted Willy Musgrave from MTA-West which is the distributor of Xtreme Gear. I was familiar with the gear after seeing William Yokley and Johnny Gallagher wearing it during the 2003 GNCC season, and I was excited to check their gear out first hand.
The Xtreme race gear arrived a few days before I left for Texas, and I was really impressed with the new look of the gear over last years design. The colors where more brilliant and design were dramatically improved over what I intentionally expected.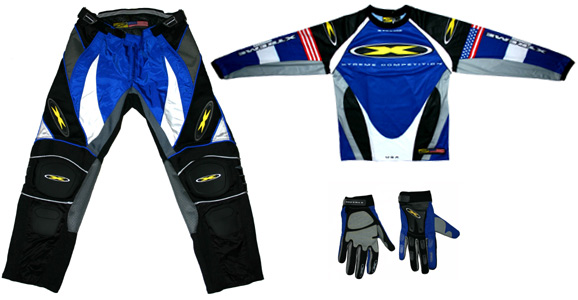 The Xtreme Worx helmet was one of the coolest and flashiest helmets that I have ever seen, and I knew right away that my pit crew would definitely know when I was coming around the track. One really cool added decorative item was the American flag, which I felt very proud to have displayed on my helmet.

The Xtreme Flight Chest Protector fit really well on my larger upper body, which was a problem that I had with other chest protectors. Most other Chest protectors that I tried on seemed like they where designed for an adult that weighed around 130 lbs and not 200 lbs. The Xtreme Fligh protector fit really well and provided plenty of coverage.
It may have looked good, but I still wondered how well it would fit and hold up to the rigors of GNCC racing. Three miles into my 1st GNCC race of the season, I quickly found out how well the gear held up and protected me from being thrown to the ground and run over by my quad at around 20mph. The chest protector got scuffed up from the Texas Rocks, but it saved me from some serious track rash. The helmet and gear itself was pretty much still in great shape, and I was able to quickly get back up and return to the race.
Ten Races later, the gear is still holding up extremely well. The pants black seat area has started to fade some to a dark grey, but the blue and white remained bright and resisted staining. All the stitching in the pants and jersey still looked as good as new and the glove wrist strap was the only thing that has torn so far and that is partly my fault. I tend to wear my gloves too tight because I wear kevlar gloves underneath to resist blisters, which causes me to pull hard on the strap to get them on. All and all, I have been extremely pleased with the gear, and I especially like the Xtreme Worx Helmet.
I highly recommend this gear to anyone looking for some new gear. If you are interested in purchasing some for yourself, I recommend you give ATVRiders.com Primary site sponsor C&D Racing a call 308 696-7805.