Review of Quadshop's Peg Extenders
(written by Rico)
If you own a set of AC Racing Pro-Peg nerfbars then a set of Rath Racing pro-peg extenders offered at the Quadshop are a must for you. These peg extenders are made of stainless steel so they should last the life of the ATV.
Take a look at Picture #1 - it looks as though Iíve taken a file to the teeth on my AC pegs, but of course I havenít. Now you might be thinking that if your pegs wear down you can always take a file to them and sharpen them up. Well that is true, but that is something that takes a good bit of time, and doesnít last long enough to justify the time it takes you to file them back into shape. Plus, if you file your pegs down eventually there will be nothing left to file. You will never need to do that again with these new peg extenders.
It takes about an hour to an hour and a half to installation of these peg extenders, as long as your have the right tools and a measure of patience.
Step 1. The first thing to do is to remove the nerfbars completely from the ATV.
Step 2. You should next remove the netting just to be safe, you do not get the nets caught in any tools you might be using during this installation, such as the drill or saw.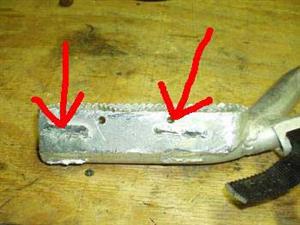 Step 3. Once you have removed the nets you need to cut off the net tabs on the peg itself. (See Picture #2) I used a hacksaw to remove the tabs and a file to get the rest of the weld off so the new peg extenders will fit flush with the rest of the peg.
Step 4. After the net tabs have been removed and filed down, attach the peg extender with a C-clamp and mark the holes for drilling.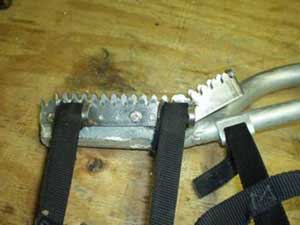 Step 5. Drill the holes in the aluminum peg and insert the nuts and bolts in the necessary locations, this may vary with ACís welded inserts on the stock pegs. (see Picture #3)
Step 6. Once the extenders are in place, and bolted on securely, attach the nets to the new net tabs on the extenders and remount the nerfbars to the ATV.
Youíre now finished with the peg extenders install. Good job and be careful not to run your shin or knee across these badboys because they will hurt you. Again these peg extenders are a must if you own a set of AC pro-pegs nerfs. No matter what model ATV you own, these peg extenders are available for all AC pro-pegs for any model ATV. Prices for the pegs from the Quadshop are $85 a set and that includes the ATVRiders 5% DISCOUNT. The first 10 orders placed will receive a Free Quadshop T-shirt! Their phone number is 502-243-0193.