Factory Effex graphics / seat cover kit
(written by Dave Hintemeyer)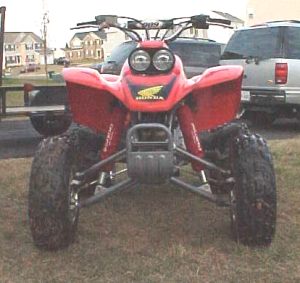 I ordered the the graphics kit and seat cover for my 400ex directly from Factory Effex. They were extremely curtious and pleasant to do business with.
My order came via UPS in a week (CA to VA). The decal kit and seat cover were well packed and undamaged. The decals go on super easy. You can also pull them back off if you are a little crooked (but not too many times ;) I used a needle to pop any stubborn air bubbles. These decals are super thick and look awesome. They blow the stock decals away.
The seat cover came with installation instructions on the back of the box, and were pretty straight-forward. However, I installed the Factory Effex seat cover OVER my existing stock seat cover. After strectching and stapling the new cover into place, I put the fenders and seat back on my quad. The decals and seat cover graphics line up perfectly!!!
I would definitely recommend the Factory Effex graphics kit to any 400ex owner.