Yokley Racing / Coastal's Scott Kiger Third at John Penton GNCC
John Penton GNCC - Round 9 - Millfield, OH - July 7, 2012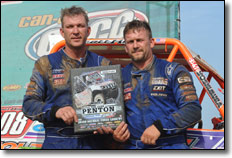 Coastal Racing / Yokley Racing's Scott Kiger placed third in the XC1 UTV Modified Class at GNCC Round 9

Frankfurt, KY (7/12/2012) - National Guard / Polaris / Coastal / Yoshimura / DragonFire / Yokley Racing Team driver William Yokley had a mechanical issue and did not finish today. National Guard / Polaris / Coastal / Yoshimura / Yokley Racing Team driver Scott Kiger finished 3nd Overall and 3nd in XC1 Modified class. Total entry numbers were not available from the GNCC at the time of this report. William's guest passenger was John Bowers, and Scott's passenger was Chris Stone.

The John Penton GNCC course is always challenging with tight Ohio woods sections, open fields and the Sunday Creek Motocross course. This year, the Racer Production team cut in more than a mile of virgin woods trails, making it more interesting.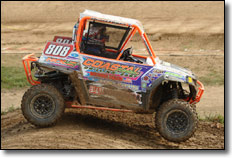 Scott Kiger makes his way around Sunday Creek Motocross track in his Polaris RZR XP 900 UTV / SxS
The National Guard Coastal Polaris Team prepared the best they could for the oppressive heat. With the temperature well over 100 degrees and high humidity, plenty of hydration is very important. At the start, the Yoshimura tuned Polaris machines of Yokley and Kiger were 1st and 2nd as they headed into the woods. Yokley came out of the woods onto the motocross track section at the end of lap 1 with a 30 second lead. As he went back into the woods, his machine started overheating with radiator issues. Not wanting to damage the engine so early in the race, William decided to shut it off.
Scott Kiger ran a smart, smooth race and settled into 3rd place. The woods sections and the motocross course were pretty dust free, but the open field sections were so dusty you could barely see. Scott was consistent and finished up on the podium in 3rd overall.
The GNCC now takes its summer break, and the next Side by Side race is the Power Line Park GNCC in St. Clairsville Ohio on October 6. Have a safe and enjoyable summer; we'll see you at the next race!
Jarrod McClure's Sponsors
The Army National Guard, Polaris Industries, Coastal Racing, DragonFire Racing, Kenda Tires, Monavie, EXIT Suspension, March Westin, KG Clutches, Kiezer Wheels, Roll Design, XC Bobs.com, Douglas Wheel Technology, Yoshimura, Moto Pro Training, Moose, IMS/Roll, Tireballs, G-4 Graphics, IMS, Bowers Motorcycle Supplies, Tusk Off-Road, PowerMadd, Holz Racing Products, Bell Helmets, Precision, DP Brakes and Quad Tech.