Ballance Racing / Yamaha's Walker Fowler took his first GNCC XC1 Pro ATV Career Win aboard his Yamaha YFZ450R ATV in Crawfordsville, IN
Cypress, CA (10/22/2012)
- Yamaha ATVs and motocross bikes raced to two wins and four additional podiums in key races from Indiana to Nevada and California over the October 20-21 weekend.
Starting up the victory run was Walker Fowler, who took his first-ever GNCC XC1 Pro ATV class win aboard his YFZ450R at the grueling Ironman off-road event in Crawfordsville, Ind. on Saturday afternoon, with nine-time series champion Traci Cecco adding a second in the morning Women's race. Cecco also announced her retirement from GNCC ATV racing at the Ironman event, although she plans to remain involved in the series from a team standpoint. Congratulations on an incredible career Traci!
Then in Anza, Calif. on Sunday, Dustin Nelson overcame a tumbling crash to score hard-earned 3-3 moto finishes and an overall podium at the ninth round of the 2012 Yamaha Quad-X series at Cahuilla Creek MX.
9x Women's Class Champion Traci Cecco announced her retirement from GNCC ATV Racing at the Ironman GNCC in Crawfordsville, IN
Ballance Racing's Fowler moved into the GNCC XC1 Pro category this year after scoring a record 13 consecutive XC2 Pro Am victories in 2011. Despite finishing on the XC1 podium seven times this season, a first pro win had still escaped him so far – until this weekend. Fowler, teammate Taylor Kiser and three other riders fought like mad for the lead throughout the nearly two-hour race, which was even harder than normal due to extremely muddy conditions that rendered certain hill-climbs extremely difficult – even for some pros. But Fowler used great line selection, dogged determination and the unstoppable power of his YFZ to earn a convincing 23-sec. victory over his nearest rival. "This feels so good!" he grinned afterwards. "It feels like it's been forever since I've gotten a win."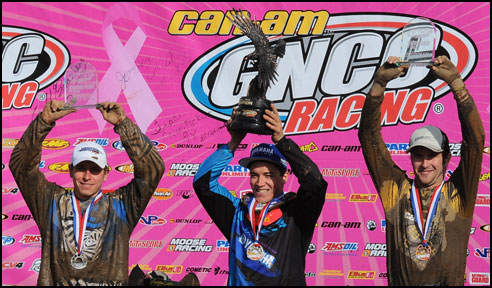 GNCC XC1 Pro ATV Podium (left to right)
Jarrod McClure (2nd), Walker Fowler (1st), Chris Bithell (3rd)
In Southern California on Sunday, five-time Yamaha Quad-X champion Nelson arrived at the series' penultimate round with a narrow points lead over Davi Haagsma. And his task was clear – if not an outright win, he needed to at least get on the box to retain the points lead.
In the first of two motos, Nelson started third behind Haagsma and Beau Baron before slowing with a minor mechanical issue. He again started third in moto two, quickly moving into second behind Haagsma and digging in for a battle with his title rival. But he clipped a bush and tumbled down a hill, losing several places in the process. After remounting, Nelson charged back through the pack to finish third once again, retaining a narrow three-point advantage over Haagsma with one event remaining at Glen Helen Raceway in California on Nov. 10.
2012 GNCC ATV XC1 Pro Points

Position
Name
Points
1
Chris Borich
316
2
Walker Fowler - Yamaha
246
3
Taylor Kiser - Yamaha
220
4
Chris Bithell
207
5
Adam McGill
200
2012 GNCC ATV XC2 Pro Am Points

Position
Name
Points
1
Braden Henthorn
267
2
Patrick McGuire – Yamaha
261
3
Matt Hanna – Yamaha
204
4
Eric Hoyland
193
5
Gabe Phillips – Yamaha
174
2012 GNCC ATV Womens Points

Position
Name
Points

1

Traci Cecco - Yamaha

177

2

Angel Atwell

173

3

Kylie Ahart

156

4

Kara Merritt – Yamaha

150

5

Lexie Coulter

147
2012 Yamaha Quad-X Pro 450 Production Points

Position
Name
Points

1

Dustin Nelson - Yamaha

200

2

David Haagsma

197

3

Beau Baron

166

4

Jason Fife - Yamaha

163

5

Josh Row

134
About Yamaha Motor Corp., U.S.A.
Yamaha Motor Corporation, U.S.A., (YMUS), a leader in the motorsports market, makes the toughest, most capable and versatile ATV and Side-by-Side vehicles. The company's ever-expanding product offerings also include motorcycles, outboard motors, personal watercraft, snowmobiles, boats, outdoor power equipment, race kart engines, accessories, apparel and much more. YMUS products are sold through a nationwide network of dealers in the United States.
Headquartered in Cypress, Calif., since its incorporation in 1976, Yamaha also has facilities in Wisconsin and Georgia, as well as factory operations in Tennessee and Georgia. For more information on Yamaha, visit www.yamaha-motor.com.