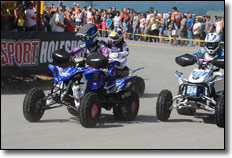 Yamaha's Traci Cecco took her fifth win of the 2012 GNCC ATV Racing season at the Snowshoe GNCC
Cypress, CA (6/25/2012)
- Yamaha YFZ450R ATVs scored three impressive wins in off-road and motocross competition from West Virginia to Arizona on Saturday, June 23. In the eighth round of the 2012 GNCC series in Snowshoe, WV, Traci Cecco took her fifth win of the year in the Women's category while Gabe Phillips and Matt Hanna went 1-2 in the hard-fought XC2 Pro Am class, and Ballance Racing's Walker Fowler added his fourth podium of the year in XC1 Pro.
Then in Saturday night racing at Speedworld MX in Surprise, Ariz., teammates Dustin Nelson and Josh Row went 1-2 in the premier Pro 450 Production class. After the great weekend results, Cecco leads the GNCC Women's class points, Patrick McGuire and Phillips are tied in GNCC XC2 Pro Am, and Nelson tops the Yamaha Quad X Pro 450 Production points as the long season passes the halfway point.
At the GNCC event in West Virginia, in the morning Women's race, Cecco led five out of the six laps to thoroughly dominate the field on a rocky and muddy course. After trailing rival Angel Atwell by 2.3 sec. on the opening lap, and then squeaking out only a 3.9-sec. advantage on lap two, it appeared as though it would be a closely contested two-hour race. But Atwell dropped back on lap three, giving Cecco a nearly seven-minute advantage over her nearest pursuer at the halfway point. From there Cecco and her YFZ450R opened up an even bigger advantage, ultimately winning by over eight minutes.
| | |
| --- | --- |
| | |
| Yamaha / Ballance Racing's Walker Fowler placed third in the GNCC XC1 Pro ATV Class at Snowshoe GNCC | Yamah's Gabe Phillips won the GNCC XC2 Pro-Am Class by more than two minutes aboard His Yamaha YFZ450X ATV |
Then in the afternoon XC2 Pro Am race, the Yamaha trio of McGuire, Phillips and Hanna jumped to the early lead, occupying the 1-2-3 spots for the first two laps. But McGuire faltered on lap three, handing the lead to Hanna, with Phillips close behind. With two laps remaining Phillips poured on the speed, passing for the lead and then opening up an advantage of more than two minutes at the flag.
In Arizona on Saturday night, officials started practice at 8 PM to let the desert heat – approaching 100 degrees during the afternoon – mercifully subside. The first of two Pro 450 Production motos saw Nelson only sixth to the first turn, but he used his championship form to move into third by the end of lap one. He next passed teammate Josh Row for second, and then inherited the lead at the halfway point when rival David Haagsma's machine broke, with Row following up in second. The second moto under the lights went even more Nelson's way, despite suffering a shoulder injury at a WORCS race the previous weekend. This time he flew to a second-place start behind rival Jesse Gross, with Haagsma back in action and challenging Nelson for position before again breaking down. Both Nelson and Row eventually passed Gross to score their second consecutive 1-2 finish. "I am stoked things went as well as they did," Nelson said.
"The bike worked great and my shoulder held up, although it is sore and weak. But once the gate drops you forget all about it!"
2012 GNCC ATV XC1 Pro Points

Position
Name
Points
1
Chris Borich
231
2
Taylor Kiser - Yamaha
153
3
Walker Fowler - Yamaha
145
4
Chris Bithell
141
5
Adam McGill
128
2012 GNCC ATV XC2 Pro Am Points

Position
Name
Points
1
Patrick McGuire – Yamaha
156
2
Gabe Phillips – Yamaha
156
3
Braden Henthorn
155
4
Matt Hanna – Yamaha
145
5
Eric Hoyland
135
2012 GNCC ATV Womens Points

Position
Name
Points
1
Traci Cecco - Yamaha
156
2
Angel Atwell
151
3
Kylie Ahart
139
4
Kara Merritt – Yamaha
131
5
Lexie Coulter
89
2012 Quad X Pro 450 Production Points

Position
Name
Points
1
Dustin Nelson – Yamaha
116
2
Josh Row – Yamaha
97
3
David Haagsma
97
4
Jason Fife – Yamaha
87
5
Beau Baron
87
About Yamaha Motor Corp., U.S.A.
Yamaha Motor Corporation, U.S.A., (YMUS), a leader in the motorsports market, makes the toughest, most capable and versatile ATV and Side-by-Side vehicles. The company's ever-expanding product offerings also include motorcycles, outboard motors, personal watercraft, snowmobiles, boats, outdoor power equipment, race kart engines, accessories, apparel and much more. YMUS products are sold through a nationwide network of dealers in the United States.
Headquartered in Cypress, Calif., since its incorporation in 1976, Yamaha also has facilities in Wisconsin and Georgia, as well as factory operations in Tennessee and Georgia. For more information on Yamaha, visit www.yamaha-motor.com.