Warnert Racing's Cody Miller Takes Top Five Finish at Ballance Moto X
Warnert Racing's AMA ATV Motocross - Round 3 Race Report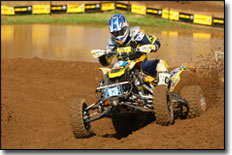 #13 John Natalie
Bowling Green, KY (4/16/2009) - Can-Am Warnert Racing's Cody Miller bounced back from a nasty spill at round number two of the AMA ATV Motocross Championship series to take a well deserved top five finish at round three.

Although a tornado watch was posted, Mother Nature decided to give a reprieve to racers this year for round number thee of the AMA ATV Motocross Championship, which was held at Ballance Moto X. Last year, stormy weather turned the track to a muddy mess but this year, conditions were near perfect and Cody Miller took full advantage of that.

In moto one, Miller came off the line in fifth and soon worked himself into the number four position, but fell back to fifth in lap two. Miller was holding strong until teammate John Natalie went for the pass in lap four. Miller was then in sixth place, but did an excellent job of holding off Jeremy Lawson for several laps to hold his spot all the way to the finish line.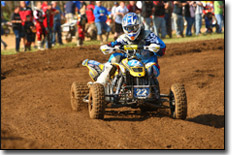 #22 Cody Miller got a bit banged up at Steel Creek, but will be all ready to go for Ballance MX
In moto two, Miller got an even better start, taking fourth going into the first corner. Unfortunately for Cody, he spun out and fell back to eighth half way through moto one. Cody put his head down and kept his focus. Cody caught up to newcomers Clay Holmes and Thomas Brown. The number 22 Can-Am made his way around both riders within two laps and began to pull away. Miller held a strong sixth place all the way to the checkered flag. Miller's 6-6 finishes earned him the number five spot overall, his best finish so far this season. "I'm pretty happy with my finish, especially after what happened last round," stated Miller, who was involved in a nasty crash off the start at the last round. "I'm just going to keep working hard and try to keep progressing from here," Miller concluded.

John Natalie was looking fast and strong as his mid pack start in moto one soon turned into a 5th place position. John even began gaining ground on Josh Creamer who was holding down fourth place, but there was not enough time for him to close in to make a move before the checkered flag was waved. Natalie was eager to secure another good finish in moto two, but mechanical issues put his plans on hold. "I felt really good out there, so I'm hoping next round I will be up on the podium," said Natalie determinedly.

The next round of the AMA ATV Motocross Championship will have the Can-Am Warnert team heading to Birch Creek in Danville, VA on April 18th-19th where Natalie and Miller both scored top ten finishes last year and hope to have even better performances this year.

www.warnertracing.com
1203 33rd Street South
St. Cloud, Minnesota 56301
(320) 251-9100 - Fax (320) 251-4764
info@warnertracing.com