2012 TQRA / LSQR ATV Motocross North V.S. South Shootout Race
TQRA / LSQR North v.s. South - Three Palms ESP - Conroe, TX - October 28, 2012
Fortworth, TX (10/11/2012) -The ATV Motocross racing scene in midwest once again prepares itself for the biggest race of the year. Once a year the Northern Midwest racing series TQRA battles the Southern Midwest racing series the LSQR. This event will be hosted at Thee Palms ESP in Conroe, TX near Houston. A $5,000 pro purse is up for grabs and has many big national riders coming down to Texas to battle for the North vs South title.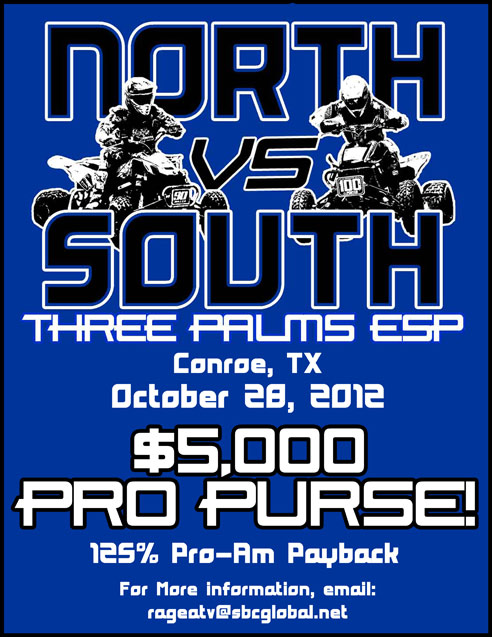 TQRA / LSQR North v.s. South - Three Palms ESP - Conroe, TX - October 28, 2012
This should be a great event with lots of fun activities planned for the entire weekend! Friday October 26th gates will close at 10 p.m. Saturday October 27th gates open at 9 a.m. will close at 10 p.m.

Event Schedule:
Organized Practice is from 10-3
Early Registration is from 3-5
Tech Inspection is from 3-5
Sunday October 28th gates open at 6 a.m.
Sign up from 7-8 Riders Meeting starts at 8 a.m.
Practice 8:30 ( 2 laps per practice group)
Racing to start at 9 a.m.

Fees:
Race fees are 40.00 for Pro/Expert and Pro-Am
30.00 All other classes
Second class 25.00 (This excludes Pro/Expert and Pro-Am)
R.V. Sites $35 per night
Primitive camping 15.00 per night
You must have a membership to race or ride anything at 3 Palms so a weekend membership is 6.00 per person who is riding/racing.

Classes:
Open Expert (16 & up)
Pro-Am (16 & up)
Open A (14 & up)
Open B (14 & up)
Open C (14 & up)
14-24
25-34
Vet 35 and Over
Women's (12 & up see class rules for exceptions)
Co-ed youth (12 - 16)
Super Mini (9-14)
Sr. Mini ( 8-12)
Jr Mini (6-11)
Sr Pee Wee (6-10)
Jr Pee Wee (3-6)
Open Mini Mod (9-15)
Mini Stock (7-11)

For more information please visit the Facebook event page -
https://www.facebook.com/events/153717901432800/, www.tqra.co www.lonestarquadracing.com

To contact Three Palms to reserve RV sites please call 936-321-8725,
website is www.threepalmsesp.com