New Full Size ATV by 'New OEM' Launches Serious Competition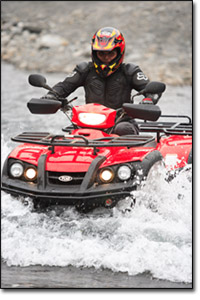 Red TGB Outback 425 ATV


Kennesaw, GA (5/29/2007) – TGB, the 25 year old Taiwanese company, famous for its overwhelmingly successful line of scooters in the U.S. market, announced the highly anticipated launch of the TGB Outback™ 425 4x4 Adventure Series™¸ a brand new line of full sized utility ATV's aimed squarely at the U.S. market. Models including the, Outback™ 425C, OUTBACK 425 Special Edition, and the Outback® Camo Edition.


The new TGB Outback™ 425 4x4 Adventure Series™ all-terrain vehicles are setting the standard for the next generation in ATV technology. The Outback™ 425 is perfect for hunters, farmers, rangers, campers and adventure seekers. The experienced ATV rider will find the Outback™ 425 fun to ride because of the automatic transmission, high ground clearance, and exceptional turning radius. The Outback™ 425 has a standard high and low range with an automatic locking front differential so you can get out the deep mud, climb higher mountains, and forge deeper rivers.

The Outback line of utility ATV's is designed and manufactured to the strict quality standards that the US market demands, have unmatched features as standard equipment and are competitively priced.
TGB Outback 425 Camo ATV

"While we are the new kids in town, comparatively speaking, TGB has been a manufacturing partner of over 27 years with several brands including Polaris and Piaggio, explains US President, Bill Peirce. "We are an extremely well known brand offshore and now we're manufacturing product specifically designed for the US market that offers top quality build, and extra features over existing OEM's all at a competitive price."

Standard on the Outback series is:
Reliable & Powerful Engine - The TGB liquid cooled engine comes with dual exhaust. This powerful engine and has been tested for thousands of hours under the worst conditions. The test riders for TGB ride day and night, 24 hours a day and 365 days a year testing their vehicles. In one lap of the TGB test track the rider will forge 16 inches of water, climb a 30 degree hill, descend a 20 degree mud slid, and go over 50 tree sized bumps.
Digital Dash - The TGB Outback™ 425 SE and Camo versions come standard with a digital gauge with MPH, tachometer, high-low beam, oil pressure, water temp, turn signals, and gear indicator. The Outback 425 C comes with an analog gauge package.
Powerful Lighting Package - The TGB Outback™ SE and Camo versions come standard with two outside headlights and two inside high-beam projector style lights, plus a high-mounted headlight on the handle bars. The high-mounted light has high/low beam and will turn with your every move. This is great for lighting up the path around the corners. The Outback 425 C comes with two headlights.
Hydraulic Disc Brakes - Twin discs in the front and a single disc in the rear.
Automatic Transmission and Shaft Drive - TGB is a leading manufacturer of automatic CVT transmissions for big companies like Polaris, Bombardier Vespa, and Piaggio. So it's no wonder that the TGB Outback™ 425 comes standard with a beefy fully-automatic CVT transmission with a choice between 2-Wheel Drive and 4-Wheel Drive, High and Low Forward Gears, Neutral, and Reverse. All 4-Wheels are shaft driven.
Locking Front Differential - When the mud gets deep, you need all the traction you can get. Shift from 2-Wheel Drive to 4-Wheel Drive, lock the front diff and let the fun begin.
Lock Out Shifter - Let's say you leave your ATV running while you go check on something and your 6 year old son thinks he should jump on daddy's ATV and go for a ride. On other ATVs this could end up being a bad story, but with the TGB Outback™ 425 our little guy won't get far. In fact he won't move at all because the second he grabs the shifter and shifts into H, L, or R, the ATV will stop running. You see, we added a great safety feature that we call the TGB Lock-Out™ shifter. You have to hold in a brake lever while shifting any gear. This prevents accidences and adds years of life to your gear box.
Fully Enclosed Footboard - Your ATV may get muddy, but your feet won't. The front and rear fenders are connected by a high-impact ABS footboard reinforced by steel.
Two Water-Tight Locking Compartments - In front of the rider you will find two water tight compartments to store your valuable items such as the truck keys, wallet, hunting license, cell phone or other items that need to stay dry. We also include a cell phone charger plug on the right side so you can stay in touch with the home front. For convenience, your ignition key also fits the locks.
High Ground Clearance - We use taller tires and longer shocks to get the most ground clearance possible.
Locking Steering Column - TGB includes a locking steering column on the Outback to help in the prevention of ATV thefts.
Front Grill Guard - Our standard grill guard on the Outback™ 425 SE and Camo versions offer protection from trees and brush. Optional on the Outback 425 C.
Front and Rear Turn Signals - Although our ATVs are for Off-Road Use only, you may need to let your riding buddies know which direction you plan on going in the camp ground. The great thing about the signals are the flashers. You can set the flashers so that you will be seen while running down the side of your favorite path. This is a great feature for farmers who may use their ATVs on private roads. In case of deep mud or brush, you can pop out the lights easily and store them under the seat. They unplug with a simple automotive style plug. We have optional plastic plugs for the empty holes.
Standard Winch Mount - The TGB Outback™ 425 comes standard with a front winch mount that fits all standard winches.
Trailer Hitch Mount - A ball mount or receiver hitch mount is standard.
Sturdy Racks - Our standard racks are as large as the competitions 500's. You can rely on our racks.
Aluminum Skid Plates - The TGB Outback™ 425 SE comes standard with a full set of aluminum skid plates and are optional on the standard Outback™.
Aluminum Wheels - The SE comes standard with aluminum wheels and aggressive off-road tires.
About TGB:
TGB (Taiwan Golden Bee Company) established in 1978, manufactures ATV's, scooters and motorcycles for distribution worldwide under the TGB brand. TGB also manufactures engines, engine components and vehicles for other OEM's. TGB is the world leader in design and production of Continuously Variable Transmissions (CVT), commonly utilized in scooters, atv's and snowmobiles.
About Cobra Powersports:
Cobra Powersports is the sole authorized distributor for TGB products in the USA. Founded in 2002, the company maintains 220+ dealers in the U.S. and has distribution, support and parts locations in the Atlanta, GA area and Sugar Land, TX.


Cobra Sales
3939 Royal Drive NW, Suite 139
Kennesaw, GA 30144