Team UXC Racing's Michael Swift rode for 10 hours to win the 2012 Heartland Challenge in the Pro 4x4 Ironman class
Lewisburg, TN (8/22/2012) -
Team UXC Racing headed to Carlisle, Iowa this past weekend to defend their title in the Heartland 10 Hour Challenge. For the past four years this challenge has provided a Pro-Utility class (consisting of three riders and three four-wheelers).
Team UXC has brought home three of the four championships in this class. The 5th Annual Heartland Challenge modified the Pro-Utility class from a team competition to a Pro 4x4 Ironman class only weeks before the challenge began. The class went from having three teammates/three machines to running the race solo with one machine. Michael Swift of Team UXC, of Lewisburg, TN represented Team Can-AmTalk.com in the Pro 4x4 Ironman class this weekend. Also racing for Team Can-AmTalk.com was Forrest Whorton from Castletown, VA. Whorton raced in the Open Ironman class to defend his current title.
Can-amTalk.com / Team UXC Racing's Michael Swift won the Pro 4x4 Ironman class at the 2012 Heartland Challenge by finishing four laps ahead of second place
The Iowa region has seen extreme drought this summer leaving very dry and dusty conditions for the 7.9 mile cross country course consisting of woods, fields, jumps, and obstacle courses. The flag dropped at 1:30 p.m. on Saturday, August 18th with a lamanse style start. All Racers were lined up 50 feet across from their bike, at the gun shot racers ran to their machine, fired the engine up and lobbied for the best position off the line and into the woods. Michael Swift rallied for 3rd position off the start and quickly commanded the lead by the end of the first lap. By the midway marker of five hours, Swift had lapped all seven Pro 4x4 Ironman contestants. Whorton claimed the #2 position in the Open Ironman Class. With daylight dwindling after the midway point, Team Can-AmTalk.com riders quickly pitted for fuel and light installations to finish the race in the dark.
With one hour remaining in the event, Swift pitted for fuel and dismounted his CAN-AM machine to take a quick stretch for the first time of the race. After ten hours of continuous racing, the checkered flag finally flew and Swift soared across the finish line to take a commanding first place podium in the Pro 4x4 Ironman class (more than four laps ahead of 2nd place). Whorton, who held a strong second place the majority of the race, experienced mechanical failure on the last lap dropping him back to a 3rd place podium in the Open Ironman class.
"I had a great run out there!" said Swift. "I tried to find a good pace that I felt I could run for a solid ten hours that would wear down my competion, and that's what I did. I have to thank Can-Amtalk.com for making this race possible for our team. Also a big thanks to Can-Am BRP, Maxxis Tires, Rox Speed FX, Moto Pro Training, Team UXC's fabrication shop, and all of Team UXC sponsors for their support. Ten hours on the 2012 Outlander 800 XT and not a single problem. It would not be possible without all my sponsors working together."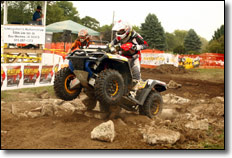 Team UXC Racing's Forrest Whorton placed third in the Open Ironman Class aboard his Can-Am Outlander ATV
Forrest Whorton stated that he had a great race after fighting through the dust right off the start. He worked his way into 2nd place and held a solid 2nd all day long until his unfortunate last lap.
Team UXC would like to thank all our sponsors for their tremdous support. A special shout out to the hardworking individuals who helped out in our pits. Also, a big thanks to Andy Kyner and crew, GBC Tires, and Can-Am for putting together the Heartland 10 Hour Challenge, a truly unique event.
You can learn more about Team UXC Racing by visiting teamuxcracing.com or on Facebook at facebook.com/teamuxcracing
Team UXC Racing would like to thank all of our 2012 sponsors:
Can-Am, Maxxis Tires, Can-Amtalk.com, PIAA, Santor Design Co., Fox Racing Shox, CarboRocket, Paragon ATV, Tireballs Kal-Guard, Ricochet Offroad Armor, Spider Grips, Cycra, Rox, Evans Coolant, Fourwerx Carbon, SSI Decals, DP Brakes, Outerwears, ATR, Cool It Thermo Tec, Moto Pro Training, Fly, High-Tech, ATVRiders.com, Flexx, Scott, Twin Air, Rath Racing, Arai, Leatt, HMF, Hiper, America's Motor Sports, Bopp Racing Components, Cyclops, Mike Penland Racing, RB Components.