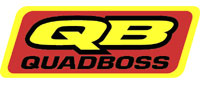 QuadBoss Side-by-Side Weather Protection Covers Introduced
QuadBoss Heavy Duty, UV Resistant, Coated Polyester, SxS / UTV Covers
Fort Worth, TX (5/25/2012) - QuadBoss' new high quality covers provide reliable all weather protection for your UTV. The covers are constructed of quick drying, heavy duty, coated polyester for long life and maximum water repellency. They feature a UV resistant coating and double stitched interlocking seams for added strength.
QuadBoss Weather Protection Covers are available for both 2 & 4 seat Side-by-Sides
The covers are vented on both sides to let air pass thru and to help them stay secure in high winds. The UTV 4-seater cover has an elastic cord sewn into the bottom hem to help ensure a snug fit and a driver side zipper that allows for easy access. The UTV Crew cover has 10 hooks with reinforced grommets, great for attaching the cover to the base of your UTV, assuring a secure fit!
Available in UTV 4-Seater $89.99 & UTV Crew $99.99
To order QuadBoss products, contact your local authorized Tucker Rocky Dealer or visit QuadBoss's website at www.QuadBoss.com to find an Authorized Dealer near you. You can also follow the latest news about QuadBoss on Facebook at www.facebook.com/quadboss. For product questions call 877-847-1558 or email at QuadBoss@QuadBoss.com.