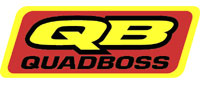 QuadBoss Pile Driver Standard 50" ATV& SxS / UTV Plow Blade
QuadBoss Plow Blade Made of Heavy Duty 11 Guage Steel with Reinforced Baces
Fort Worth, TX (10/5/2012) - QuadBoss' newest addition to the Pile Driver line of snow plow blades is the 50" Standard Blade (56-3633). This Standard blade brings a fixed wearbar design to the popular line of Pile Driver Plows. Constructed of heavy duty 11 gauge steel, this blade features reinforced back braces for optimum blade strength and an aggressive blade angle of attack to provide excellent scraping results.

Adjusting the angle of the blade is made easy with a comfortable quick release pin and five possible angle positions. The long lasting 3" reversible wearbar and the tough powder coated black finish ensures you will be ready for many snow seasons to come.

The Pile Driver Standard 50" blade is compatible with QuadBoss' straight push tubes and universal mounting kits for both ATV's and UTV's.

50" Standard Black Blade $199.99 56-3633 Available Immediately

To order QuadBoss products, contact your local Dealer or visit QuadBoss' website at www.QuadBoss.com to find an authorized Dealer near you. You can also follow the latest QuadBoss news on Facebook at www.facebook.com/QuadBoss. For product questions call 877-847-1558 or email at QuadBoss@QuadBoss.com.