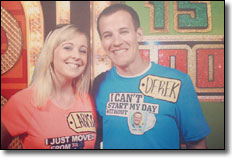 ATV Freestyle rider Derek Guetter & His Wife were on the Price is Right
Wabasso, MN (6/21/2012)
- Hello everyone! Time sure is flying this year, and unfortunately for me most has been spent from the discomfort of the spectators section. It's been just over 4 months since my femur split and a few of my vertebrae collapsed, but everyday I'm seeing improvement and am getting 1 step closer to doing what I love once again.
Recovery has been normal I guess, feels very slow for me but the doctor's said the longer I let this one heal the better off I'll be. That's a hard pill to swallow, my femur feels fully healed but the paralysis in my oblique muscles won't allow me to get back in the gym and get my body back in shape. There's still a chance that the nerve endings will grow back and I'll get feeling back in my left side, so I'm not giving up hope just yet.
Jon has been a man on a mission this year! If you've ever met Jon and myself, you'll immediately see how much bigger he is than me. For a big man of Jon's stature to be doing the tricks he's doing now is pretty damn incredible. Jon's always been known for just doing backflips, but now he's only 3-4 big tricks away from doing the stuff that I do, AND doing holding 1 handed back flips from take-off to landing! It's really fun to see him riding with intensity again, and it's nice that I'll have him to really push me back into the scary stuff that we do on a daily basis. Kudos Jonboy!
Besides the recovery and utmost sadness of watching everyone else ride, my wife and I just moved into a new place in Elk River Minnesota! I know everyone probably envies my life of living out of a suitcase and people's couches, but it's sooo nice to finally have our own casa de Guetter to come home to. Especially for my wife who made the move from Australia last year, it's been long overdue that we finally take our stuff out of boxes and display them in a home. So if you're ever in the area bring a bottle of wine and I'll cook up the meanest mac n cheese you'll ever have the pleasure to bite your teeth into!
For all you lucky ducks in Minnesota, this coming weekend (June 22-23) you can come see Jon bust a few backflips at the debut of Terracross at ERX in Elk River MN! If you can't make it, shame on you, but at least you can catch it on CBS sports in the following months. Be sure to follow us on Facebook, Facebook.com/Quadfreestyle to find out where we'll be next and updates on my long road to recovery! Thanks for everything guys, can't wait to get back on my Can-Am and shred!
PS My wife got called down on the Price Is Right last month if you haven't heard or seen it on TV, how bizarre is that?! If you're ever in LA take my word and wait 6 hours in line to get in, it was soo much fun!
-Derek Guetter


www.quadfreestyle.com
G3 / Quad Freestyle
27157 230th.
St. Wabasso, MN 56293