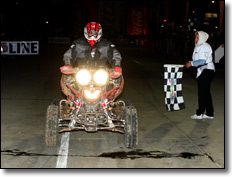 Matlock Racing claimed the BAJA 1000 Overall ATV Win & the SCORE ATV Championship running Precision Racing Products new product to be announced
Lodi, CA (2/10/2010)
- Precision Racing Products of Lodi, California to release new product at the 2010 Dealer Show in Indianapolis, Indiana.
The new product is designed to complement Precision's steering stabilizers and add a new element of shock and vibration absorption to the handlebars. After over a year of design and over 20 Top Pros testing it, the new product has proven to be worthy of the Precision name by helping Wayne Matlock's team win the Baja 1000 by nearly 2 hours.
Wayne received the new product the day before leaving for Baja. He had no intention of running a product that he had not personally tested in a 1,000 mile race. After putting the new product on one of his two identical pre-runner ATVs, the team unanimously decided that they had to run it, Wayne said "It was just too big of an advantage".
After the race Matlock was quoted saying "The problem is next year everyone will have one" to his teammate Harold Goodman about the new product.
Detailed information about this new product will be available after the Dealer Show on Precision's website.