"Outta Control" DWT Spyder Wheel Themed
"Spider Quad" Suzuki LT-R450 Unveiled at Indy Dealer Expo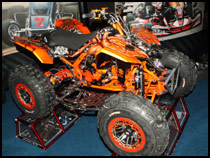 Quinn Michael's Newest "Outta Control" Spider Themed Suzuki LT-R450 QuadRacer ATV

Indianapolis, IN (2/15/2008) - The Indy Dealer Show is always an exciting event that is filled with new, innovative, and sometimes flashy products for motor sports enthusiasts to oogle over, but for the 2008 expo, there is one display that stands out from all the others: Outta Control Customs.

Outta Control Customs is owned and operated by Quinn Michaels who has been creating his artistic, extreme ATV customs since 2001. With approximately 30 gorgeous customs already under his belt, Quinn really out did himself this year with the quad he created for Douglas Wheels in order to promote their new Spyder Wheels.

The quad is appropriately named the "Spider Quad". It is a fantastic piece of work with custom stainless steel webbing and laser cut spider decals, among other spider inspired details, courtesy of Tarantula Performance Racing (TPRUSA.com). To accompany this quad at the dealer expo, Quinn had special display stands built out of steel tubing and plexi-glass that contain live tarantulas, emperor scorpions, and giant millipedes. "It's a lot of fun having those on display. It really draws a lot of attention!" Quinn stated.
| | |
| --- | --- |
| | |
Perhaps one of the most impressive things, besides the big bugs, is the paint job on the quad, which is simply amazing. "It usually takes me about three months to put a bike together," said Quinn who claims that building these custom works of art is his way of relaxing after a long day on the job. "When we do the paint on them, I sit down with an artist and give him my ideas, he draws something up and we fine tune it from there." Quinn has four different painters he works with for his customs, depending on the style of the paint scheme. But, don't let the good looks of his designs fool you, these quads aren't just for looks. "I still like to get out there and race at the Extreme Dirt Track Nationals so I build the motors for racing," he explained. "I am trying to create a market for extreme quads and so far it's working out pretty good and I'm having fun with it, but I need to start selling some of these quads because my wife can't even park her car in the garage anymore," he said jokingly. Quinn still has nine of his creations in his possession, the rest he has used for racing and stunting at various shows.
| | |
| --- | --- |
| | |
Quinn displays his ATV's at many different events and has shown his quads in the company of bike builder, Jesse James and car customizer extraordinaire, Chip Foose. Quinn has even been asked to bring his quads on tour with NOPI this summer, but his favorite type of shows are a little on the smaller side. "We do a lot of shows at youth ministries, schools, and facilities for troubled kids. I like to go out there and show these kids that everything is achievable and not to let anyone tell them otherwise," Quinn said determinedly

It is that same determination and dedication to his work that has brought Quinn's Outta Control Customs recognition from many magazines and media outlets and earned him the respect as a top designer and builder in the ATV industry.

If you would like more information or want to check out some of Quinn's other quads, you can visit the new website at www.outtacontrolcustoms.com which will be up and running in the next few days.

ATVriders.com would like to extend our condolences and deepest sympathies to Quinn Michaels and his family. It was brought to our attention that Quinn's father-in-law passed away while Quinn was attending the Indy Dealer Expo on Friday, February 15. We ask that you keep the Michaels family in your thoughts and prayers during this time of loss.


Outta Control Ministries
Quinn Michael
(419) 553-0200