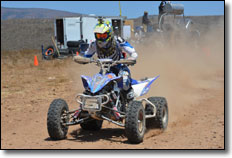 DWT / Motoworks Greg Row, Dustin Nelson, Josh Row, DJ Noerr & Travis Dillon took the Class 25 Pro ATV Win
Vista, CA (6/8/2012)
– The Tecate SCORE BAJA 500 is a grueling race, but DWT / Motoworks supported 5A Team took on the challenge and charged their way to the Class 25 Pro ATV win.
This year's course was a 450 mile loop that was tighter and a little more technical than in previous years. There were typical conditions with plenty of rocks, dust, silt beds and of course, whoops.
The ATV and motorcycle class began to leave the starting line in Ensenada at 6:00am at 30 second intervals. The Motoworks-sponsored, number 5A team of Greg Row, Dustin Nelson, Josh Row, DJ Noerr and Travis Dillon were the fifth ATV team to depart. The team ran a strong race and by the midway point was only about three minutes behind the leaders.
At the 200 mile marker, Dustin Nelson took over and closed in on the lead. "I took over at the 200 mile mark and it was possibly the worst section of the track. At the start of it, there was 25 miles of three-foot deep whoops. After just five miles of that, I was really feeling it, but I knew we were close to the leaders so I just gave it everything I had and I caught up and took the lead," said Nelson, who put the team ahead by over a minute at the 235 mile mark of the race.
The team stayed strong and rode consistently without any issues and took the Pro ATV class 25 win with a time of 10:52:07, over three minutes ahead of their competition. "It was a really great race. Our Motoworks exhaust gave us plenty of power and the new run-flat tires from DWT were awesome. I really have to thank Motoworks for all of their help and support for this race. Johnny (Leach) rented a helicopter for this event to keep an eye on everything and make sure no one ran into any trouble out there and our team really appreciated the support," said Nelson, whose team will also be racing the Baja 1000 in November.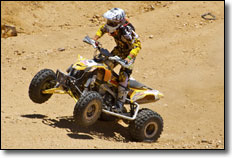 Motoworks / Can-Am ATV Race Team was in contention for the win but unfortunately crashed putting them back to seventh place before crossing the finish
The Baja 500 is notorious for being one of the toughest races on the planet and the Can-Am/Motoworks team of Josh Frederick, Dillon Zimmerman, and Collins Webster found that out the hard way. The team was looking strong and was running a fast time that would have had them in contention for a class win, but a nasty wreck during Dillon Zimmerman's section caused quite a bit of damage to their machine and it took nearly two hours for repairs which set the team back and gave them a seventh place finish in their class.
The next race of the SCORE series is the Tecate SCORE Baja 1000, which is scheduled for November 14th – 17th.