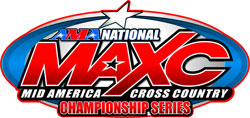 2013 AMA MAXC Racing Awards Banquet
Top MAXC Cross Country Racers to be Awarded
Martinsville, IN (12/19/2013)  – The AMA MAXC Racing Series will host the 2013 AMA MAXC Racing Awards Banquet on February 7th & 8th Bradford Woods in Martinsville, IN. Unlike in the past, the awards banquet will be split up into two nights to cut down on the time it takes to handout and receive the awards. Friday night will be motorcycle awards banquet followed by the ATV awards banquet on Saturday night.
AMA MAXC Racing will be honoring the top five in points for all classes, top three overall finishers in the A,B, C, D and youth classes. There will also be two sportsmanship and most improved awards that will be handed out.
In addition, the overall champions will receive the 2014 RACE FOR FREE passes! There will also be contingency awards including Fly Bucks, Spider Bucks, and MAXC Lucas Bucks and throughout the night there will also be many door prizes given away.
The 2013 AMA MAXC Awards Banquet will be held at Bradford Woods in Baxter Hall
Dinner will be served each night catered by Bradford Woods.
Dinner Menu:
Each selected main entrée comes with a choice of tea, lemonade or milk. Also includes a fruit. Select one entree, two sides, and one dessert. There will also be an open salad bar and cash bar for alcoholic beverages.

Main Entrée:
Pan-Seared Chicken Breast with White Wine Sauce
Carne Guisada (Slow-cooked beef in Mexican-style gravy)
Oven-Roasted Pork Tenderloin
Chicken Lasagna with White Wine Sauce & Garlic Bread*
Bleu Cheese Meatloaf
Motorcycle Awards Banquet
When: Friday February 7, 2013
Social Hour: 6-7PM
Dinner: 7PM
Awards Ceremony: 8PM
ATV Awards Banquet
When: Saturday February 8, 2013
Social Hour: 5-6PM
Dinner: 6PM
Awards Ceremony: 7PM
Where:
Bradford Woods (Baxter Hall)
5040 State Road 67
Martinsville, Indiana 46156
You can register for the awards banquet by clicking here.
For more information please visit www.themaxc.com or visit MAXC on Facebook at www.facebook.com/maxcracingseries and be sure to hash tag your photos #maxcracing.
About MAXC Racing Series:
The AMA National Mid America Cross Country Series (MAXC) is the premier XC racing series in the Midwest drawing in racers throughout the United States and around the world.