Krista Marie Partners with B.R.A.K.E.S.
Proceeds from "Drive It Like I Stole It" Ringtone Donated to Cause
Nashville, TN (3/13/2009) - Singer/songwriter Krista Marie and her powerhouse label Broken Bow/Holeshot Records are donating 100% of their profits from the sale of her "Drive It Like I Stole It" ringtone to B.R.A.K.E.S., the nonprofit organization founded by drag racer Doug Herbert that promotes safe and responsible driving. Fans can purchase the ringtone by texting DRIVEIT to 26220.

Krista Marie co-wrote and sang, "Drive It Like I Stole It," which is the theme song for ESPN's coverage of NHRA drag racing's 2009 season. She recently connected with Harley-Davidson motorcycles and Screamin' Eagle racing in support of Harley-Davidson's efforts to encourage women to ride.

"With my motorsports background and the fact that I'm traveling more and more with my music career, I couldn't think of a better organization to partner with than B.R.A.K.E.S.," said Krista Marie. "Doug (Herbert) started this organization so parents wouldn't have to go through the heartache his family has gone through, and I'm so thankful Benny (Brown) is right beside us on this."

Herbert formed B.R.A.K.E.S., which stands for Be Responsible and Keep Everyone Safe, after losing his two sons, ages 12 and 17, in a tragic automobile accident early last year. The mission of the organization is to prevent injuries and save lives by training and educating teenage drivers and their parents about the importance of safe and responsible driving.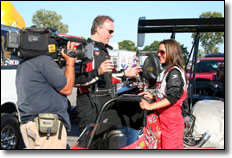 B.R.A.K.E.S Founder,Doug Herbert, & Krista Marie at an NHRA Drag Racing event
"I think it's great that Krista is supporting B.R.A.K.E.S.," said Herbert, a 10-time national event winner. "I met her last year when she was filming the video for 'Drive It Like I Stole It', and I told her about the organization and what we're doing to keep teen drivers safe. She came to me with this idea and I was very excited. I think it's a really fun and creative way to raise money for B.R.A.K.E.S."

"Krista has a passion for anything that has to do with music and horsepower, and that includes safety on the road," said Broken Bow Records founder Benny Brown. "I'm proud of this partnership and look forward to raising a lot of money for B.R.A.K.E.S."

Krista is finishing work on her debut album for Broken Bow/Holeshot Records. Her first single, "Jeep Jeep," will begin hitting radio airwaves April 27, 2009. Fans can learn more about her at www.kristamarie.net.

About B.R.A.K.E.S.
B.R.A.K.E.S., which stands for Be Responsible and Keep Everyone Safe, is a non-profit organization founded by NHRA Top Fuel drag racer Doug Herbert in memory of his two sons who were killed in a car accident. By training and educating teenage drivers and their parents, the foundation aims to promote safe driving in an attempt to prevent injuries and save lives. For more information, visit www.putonthebrakes.com.


Discuss this in ATVriders.com Forum