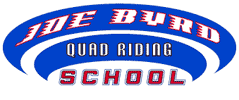 Joe Byrd Quad Riding School ATV MX Round 8 & 9 Race Report
Adrienne Cooper Wraps up Women's Class AMA ATV MX Championship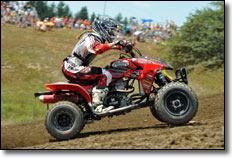 Adrienne Cooper wrapped up the 2012 Women's Class AMA ATV MX Championship at Unadilla

Union City, TN (7/31/2012) -Rounds 8 & 9 of the AMA ATVA Nationals were very successful for Team Joe Byrd Quad Riding School. At the famous Unadilla MX in New Berlin, NY, Adrienne Cooper raced her way to a 1-1 finish, capturing the overall as well as the 2012 ATVA Women's National Championship. After winning 3 races in a row, the Championship was the icing on the cake for the #14 as she celebrated on the podium with her Team. After clinching the Women's Sport title at the famous facility back in 2006, AC repeated her winning ways here yet again, as she became the Women's Champion!

At Round 9 in Buchanan, MI, Team rider Gregg Miller had an impressive weekend as his 1-1 finish helped him secure the Senior 40+ Class Championship. After recovering from a horrific crash last year at Loretta's that left him with a broken neck, 4 broken ribs, and 3rd degree burns on his back, Miller his come back stronger than ever with an impressive 5 wins this season.

Team Joe Byrd will be at Loretta Lynn's to participate in the final race of the season on August 11-12, 2012!

www.joebyrd.com
5004 Old Harris Road
Union City, TN 38261