Torrance, CA (5/2/2011) -
American Honda Motor Company introduces another wave of machines for the 2012 model year, which include a wide assortment of dual-sport and off-road motorcycles, ATVs and the Big Red™ MUV. These 2012 models emphasize the far-ranging options that Honda brings to customers and this broad array of machines also underscores another exciting new season for Honda. This release of 2012 models includes a host of ATVs including the FourTrax® Rancher® family, the FourTrax® Recon®, TRX400X and TRX90X; plus the versatile Big Red. In addition to these models, a host of new 2012 Honda Genuine Accessories are available that encompass the quality, performance and fit and finish you expect of all Honda products.
"Over the years, riding enthusiasts have come to know, appreciate and trust the wide diversity of machines that Honda offers," said Powersports Press Manager Bill Savino. "This extensive release of 2012 models serves as a perfect example of how we strive to meet the many needs of today's riding enthusiasts. This latest new-model release will fulfill the needs of many riders, but I'm excited to add that in addition to these models, we have even more new releases to follow later this year."
More detailed information and images of Honda's model line can be found on www.powersports.honda.com or see your local Honda powersports dealer.
2012 Honda FourTrax Rancher Utility ATV
2012 Honda FourTrax Rancher 4x4 Utility ATV
Over the years, the hard-working FourTrax Rancher series of Honda ATVs have proven to be exceptionally dependable riding partners whether the day calls for hard work or loads of fun. From sunup to sundown, these hard-working machines simply get the job done thanks to a torque-laden liquid-cooled fuel-injected 420cc engine. From that well-proven starting point, the list of configurations truly abounds: 2WD or 4WD, manual transmission, Honda's Electric Shift Program that makes gear shifts as easy as punching a button, or a fully automatic transmission. There's also a choice of Electric Power Steering plus much, much more. With so much to choose from, it's easy to see why the FourTrax Rancher family continues to stand out as one of the best picks in the world of ATVs. Availability: Summer 2011.
2012 Honda FourTrax Recon ES Utility ATV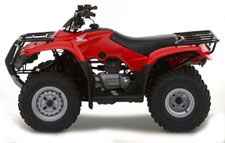 2012 Honda FourTrax Recon ES 4x4 Utility ATV
Since the inception of this classy ATV, thousands of riders have made the Honda FourTrax Recon a best seller, and that's just the way it should be. A remarkably torquey 229cc OHV engine pumps out delightful levels of performance, while its size enhances its agile handling traits. With the option of a manual gearbox or Honda's push-button Electric Shift Program (ESP®) the FourTrax Recon continues to deliver just-right performance that gets the job done seven days a week. Availability: July 2011.
2012 Honda TRX400X Sport ATV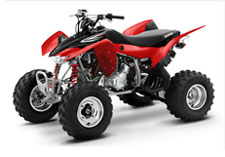 2012 Honda TRX400X Sport ATV
The TRX400X enjoys a well-deserved reputation for bringing aggressive styling and high performance to the ranks of sport ATVs. The bulletproof 397cc RFVC (Radial Four-Valve Combustion Chamber) engine has earned its place as one of the all-time great engines by offering both power and durability in spades. Yet thoughtful amenities such as a five-speed transmission plus Reverse gear and electric starting bolster the fun part of the equation as well. All in all, the TRX400X delivers all the goods for those in search of a performance-packed ATV that also includes Honda's legendary excellence of design. Availability: July 2011.
2012 Honda TRX90X Youth Sport ATV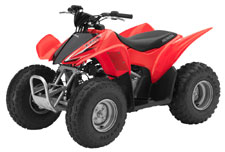 2012 Honda TRX90X Youth Sport ATV
When it's time to introduce off-road riders to the world of ATVs, the TRX90X serves as the ideal starting point. While the TRX90X carries the same styling cues that place it right alongside its big brother sport ATVs, it also offers a smooth power delivery and Honda's renowned reliability. Factor in the ease of electric starting, Honda's durable automatic clutch and a refined suspension system, and you have the perfect combination for launching a new beginner off to a great start on a lifelong riding career. Availability: August 2011.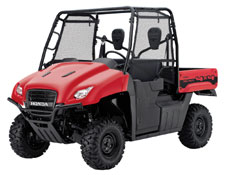 2012 Honda Big Red MUV
In 2011 Honda brought a load of upgrades to the Big Red Multipurpose Utility Vehicle (MUV), and these changes continue to elevate this hard-working machine way ahead of all other options. Credit its multiple patents and numerous automotive-based technology features for the praise Big Red has garnered for its superior handling, secure feel and comfortable ride. Yet it works harder than ever, thanks to its 675cc liquid-cooled fuel-injected engine, recently upgraded load carrying and towing capacities, revised suspension, contoured bench seat for easier entry/exit and a Roll Over Protection Structure (ROPS) that meets OSHA requirements. Availability: August 2011.
About Honda
American Honda Motor Co., Inc. is the sole distributor of Honda motorcycles, scooters, ATVs, MUVs and personal watercraft in the U.S. American Honda's Motorcycle Division conducts the sales, marketing and operational activities for these products through authorized Honda dealers. For more information on Honda products, go to www.powersports.honda.com.