Holz Racing's RJ Anderson WORCS Round 8 SxS Race Report
WORCS ATV Racing – Round 8 – Honolulu Hills MX - Taft , CA - September 15, 2012
Lynden, WA (9/20/2012) - With seven rounds down in the 2012 WORCS Production 1000 UTV Class, RJ Anderson, came into Round 8 tied for points and a job to do... win. RJ signed on for the series to campaign the Holz/Walker Evans Polaris RZR XP 900 in between his Lucas Oil Pro-Lite driving responsibilities. What started early on in the season to be a fun plan to stay behind the wheel of RZR's where he cut his teeth — turned into a full-on battle with WORCS experiencing huge turnouts all season long in the hotly contested 1000 class.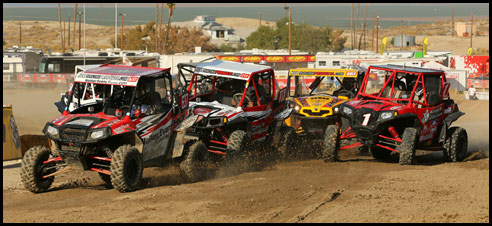 RJ Anderson grabbed the holeshot driving his Holz Racing / Walker Evans Polaris RZR XP 900 SxS. Anderson placed second in the WORCS SxS Production 1000 Class points
Throughout the series, RJ proved his dominance in the Kroyer-powered, Holz-built Polaris RZR XP with 4 of 8 wins in this ultra-competitive class. And as they came off the line for the final race of the season RJ had put himself right where he needed to be - out front with a holeshot. After lap one, the race was stopped to clear a car that had flipped in the canyon blocking the course. They restacked the class in single file and got back underway. RJ continued to gap the field, but on the final lap the championship hopes were dashed when he suffered a transmission failure while on the motocross track. He hopped out to inspect and found no forward gears working but was able to get reverse to work. So with the grit and determination of a champion, he drove the final 6 miles in backwards.
"With the amount of effort the guys put in, I'm going to do everything I can to race for the win, and if that can't happen I'm going to do everything I can to finish what I started" said RJ Anderson.
The entire Holz program this year was based on that idea. Race for the win, continue to develop cars and drivers, and never give up. With RJ Anderson finishing second overall, Jake Greco finishing 5th and Todd Seaver pulling down an 8th overall — Holz Racing Products fielded 3 top ten finishing racers in this class that saw 46 different drivers earn points in 2012.
For the 2013 season Holz Racing is proud to announce an unmatched race support and contingency program. With race-legal packages developed for the WORCS and GNCC series. Racers who buy a kit receive race-proven components, technical support and serious cash payouts for race wins each round along with a championship bonus at the end of the season. Find out more about the program at www.holzracingproducts.com
"I can't say enough good things about the car we had this year. It was fast, it handled great through the flat corners and big bumps and big jumps that WORCS threw at us. I'm bummed that we missed out on the overall. But I'll be back at select events, next year in a Holz/Walker Evans/Polaris RZR XP. I think there is a great opportunity for someone to step into this level of car with the Holz SXS Race Program" said RJ Anderson.
Next up the Coastal/HRP RZR XP will compete at the Best in the Desert Bluewater Desert Challenge on October 12-14th in Parker, AZ, while the Coastal GNCC team readies for ITP Power Line Park October 6-7th in Ohio.

About Holz Racing
For 16 years, Holz Racing Products has been building the highest quality, best performing suspensions and chassis components available. Everyone says "race-proven." We Live it. From WORCS, desert to short-course, Holz Racing Products are developed and proven in the most grueling applications. What we learn out there is built into our 2011 UTV product line. Exacting tolerances, OEM-like fit, durability and performance engineered right into every part. It all stems from our overly simple design philosophy — build the best performing, most durable products in the industry. We've earned our reputation one year and one win at a time. We strive to keep all our parts in stock and ship everything as quick as possible to keep you riding, not waiting for the delivery man. Visit our website to see our full line of Can-Am Commander and Polaris RZR parts. Holz Racing Products... Engineered to Win.