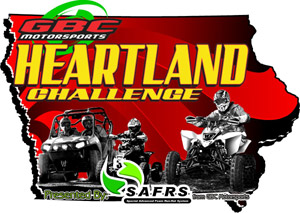 2nd Annual GBC Motorsports Heartland Challenge Race Details
August 21-22, 2009 - Carlisle, Iowa
Carlisle, IA (8/15/2009) - The 2009 GBC Motorsports Heartland Challenge presented by S.A.F.R.S. is quickly coming up August 20-22nd.
The GBC Heartland Challenge will kick off in the town of Carlisle, IA on Thursday night for "Media Night" at the Stadium Sports Bar. "It is our opportunity to welcome all the racers, their family & friends to our community", Todd Isley, Owner of Stadium.
All racers are encouraged to bring machines and their teams to showcase to the fans and sign autographs.
The competition will start early Friday afternoon with the Milwaukee Pit Stop challenge. Milwaukee tools have come up with this opportunity to offer the teams a change to showcase their pit stop skills. Teams will be required to change the driver's gloves & goggles, and both right side tires while on the clock. All teams will have 2 changes on the clock with the fastest team being awarded 2 ½" lithium battery cordless impact & battery ~ approximately $600 worth of tools.
This year the Heartland challenge will offer the 1st ever Mini RZR Race at 4 p.m. and will last for 1 ½ hours. "We are very excited to be offering this class as another opportunity for our youth riders", Tracy Kyner
The UTV race has been changed from 3 to 4 hours for 2009. The course should offer a challenge to all the racers and with the extra hour teams will have to prepare even more. Our UTV races ha some of the Heaviest hitters in the industry sponsoring them like Dirty Dawg, Holz Racing and Dragon Fire Racing.
Saturday will once again start out with the youth 3 hr challenge. Youth from 4 yrs and up will have the change to compete like the big boys with their own 3 hr team race with 5 classes raging from 50cc to 90cc production.
The 2nd annual GBC Heartland Challenge presented by S.A.F.R.S. will get started at 1:30 pm with the Lemans style start. This year's event will offer a $6,000 payout to both the Pro & Pro Utility and a $3,000 payout to the Pro-Am class winners. GBC has been the driving force of this event and now has come up with yet another great idea tot help out the amateur classes.
In 2009, the A, B, C, & women's class will collect a $500 sponsorship and the Ironman will receive a $1000 sponsorship for winning their respective class in the Heartland Challenge. The Pro Utility may be one of the best races with pre-entries from the best the sport has to offer ~ Swift, Penland, Kilby, Johnston, Robey, Rath, FD Racing, Beasley, Cecco, and Karst Motorsports.
GBC Motorsports continues to create opportunities for the riders of all ages and skill levels like no other company has ever done. GBC Motorsports and their new S.A.F.R.S. Run Flat Systems now on board with companies like Pro Armor, Precision, Scott, Ancra, Van Wall Motorsports, DP Brakes, Klim, Dirty Dawg, T&T Motorsports, High Energy Racing, Holz Racing, Powermadd, Burgard Cycle, Trimax, Dragon Fire Racing, Karl Chevrolet, Discount Tire, National Guard, C&D Racing, Sunoco and G4 Graphics to name a few. The Heartland Challenge looks as if the future is very bright! www.heartlandchallenge.com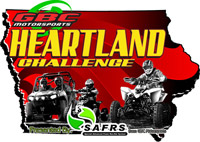 www.Heartlandchallenge.com