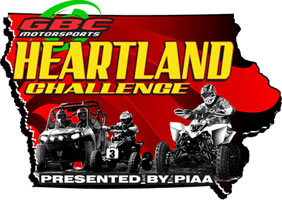 GBC Heartland Challenge Announces Kymco ATV Giveway
Carlisle, IA (10/31/2008) - The first ever GBC Heartland Challenge is proud to welcome Kymco on board as one of our supporters for this unique event. Part of that support includes giving away a Kymco 90cc Mongoose ATV.

2008 Kymco Mongoose Youth ATVs
All youth class racers will be automatically entered into the Kymco drawing when they register to race in one of the GBC Heartland Challenge Youth ATV classes.

"This is our first time supporting an event like this and we're certainly excited about it," stated Kymco's Joe Wofford, who will be attending the GBC Heartland Challenge along with one of Kymco's corporate officers from Taiwan.
Although the GBC Heartland Challenge will be a first of its kind for Kymco, Wofford acknowledged that the up-and-coming manufacturer will be getting more involved with racing in the near future. "We are already supporting some youth riders, who will be racing at this event and right now we are doing lots of product development in order to provide a full spectrum of ATV's," Joe concluded.
The GBC Heartland Challenge 10-hour endurance race is scheduled for November 6-8 in Carlisle, IA and features several youth classes that will do a 3-hour mini endurance challenge and UTV classes in addition to the main 10-hour ATV event. You can register to race in person at the event starting November 6th. In person registration closes November 7th at noon. You can also save time and avoid long lines by registering online at www.heartlandchallenge.com.

www.Heartlandchallenge.com