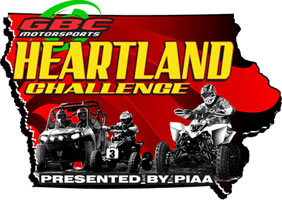 "Can-Am Challenge" Announced for GBC Heartland Challenge
Carlisle, IA (10/10/2008) - The GBC Heartland Challenge is proud to welcome Can-Am/BRP aboard as an Associate Sponsor for the first ever 10-Hour GBC Heartland Challenge ATV Endurance Race, scheduled for November 7th-8th in Carlisle, IA.
The Canadian manufacturer, that has been a major supporter of the GNCC and the ATV racing community, will be sponsoring the event as well as a particular section of the track, which has been named the "Can-Am Challenge". "Can-Am is very pleased to support and be a part of this event," said Del Bohlman.
The section of track that Can-Am will be contributing to is an obstacle course that is not for the faint of heart. The approximately 50-yard section will incorporate log, rock, and tire obstacles along with a mud pit. As racers approach the Can-Am Challenge portion of the track, they will have the option to take the line into the Can-Am Challenge area, which is about ¼ mile shorter, but is quite technical, or taking an easier line around the "Challenge" section that is longer. Depending on the rider's skill, and a little bit of luck, will determine which section they are able to get through faster.
"The Can-Am Challenge section is going to be pretty tough and not really meant for beginner riders," stated GBC Heartland Challenge promoter, Andy Kyner. "We are working on designing it now and it really will be a 'Challenge'. Some of the AA class riders of the IATVHSS series will be helping out with the design. They were all told to come up with the roughest and knarliest course that they could think of and we will put their best ideas in there," said Andy excitedly. Even though there will be some tough sections out on the course, riders will have the choice of alternative lines, that avoid the more challenging sections, in order to make it a safe and fun event for all riders.
Kyner also stated that there are a couple of other sections of the track that will have a few surprises in them, which are still in the design phase, that will include portions of the motocross section of the track. "We are trying to work it out that some of the motocross track will actually be incorporated into the woods section," said Kyner.
The GBC Heartland Challenge would also like to remind everyone that the online registration is now open and classes are filling up quickly. To register, simply visit the GBC Heartland Challenge website at www.heartlandchallenge.com and download the entry form.


www.Heartlandchallenge.com