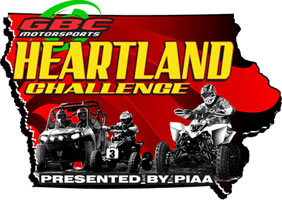 1st Annual GBC Heartland Challenge Kicks off this Weekend
Carlisle, IA (11/5/2008) - After months of preparation and anticipation, the 1st Annual GBC Motorsports Heartland Challenge Presented by PIAA kicks off this weekend in Carlisle, Iowa, and we are excited to announce several new sponsors, and updated schedule of events, and some details on the course.
The GBC Motorsports Heartland Challenge is proud to welcome Polaris aboard as a supporter of the event. Polaris will be donating a Polaris Outlaw 525 ATV to give away, and every hour during the 10 Hour ATV race on Saturday, Nov 8th, a key will be given out with a total of 10 keys handed out, but only one will start the Polaris Outlaw. After the completion of the 10 Hour ATV race, all the key holders will get their chance to start the Polaris Outlaw, and one lucky key holder will be taking it home.
Unlike the KYMCO Mongoose 90 ATV giveaway, which will be limited to just the youth ATV racer entries, the Polaris Outlaw is up for grabs for everyone in attendance including spectators and racers, but you must be present to win.
The gates are set to open on Thursday, Nov 6th, at noon, to allow everyone plenty of time to get setup, and also, Thursday at 4PM, all racers are invited out to downtown Carlisle for a media event with the local press in attendance as well as ATV magazine journalist.
On Friday, at 1PM, the Milwaukee Tool Pit Stop Challenge will kick off the racing with pit crews competing against the clock to change a front and rear tire on the same side of the ATV and also swap out the rider's goggles and gloves. The fastest team will take home a two Milwaukee Lithium Ion V-18 Battery Operated Half-Inch Impacts used in the challenge as well as throwing in a Milwaukee Multi-Bay Charger with a total value of nearly $800.00.
The endurance racing starts on Friday at 4PM with the 3 Hour UTV race. The track is nearly 5 miles long with a great mixture of terrain taking racers through the fields and into the woods for some tight trails and hill climbs to provide some challenges, which will be even more challenging once the sunsets with the race ending at 7PM
The Youth ATV race will begin at 7 AM Saturday morning, Nov 8th with a 3.5 mile long track for our youngest competitors, which again will include some a great mixture of terrain for a fun race for all, and with the early morning start time, the youth ATV racers will also experience some riding in the dark with the race starting just before sunrise.
Finally, at Noon on Saturday, the 10 Hour ATV Race will start, and they have an exciting 8 mile long course, which includes the "Can-Am Challenge." "We've got some pretty good obstacles out there in the "Can-Am Challenge" section. There are telephone pole and rock obstacles and we are still working on more," said Kyner, who rates the technicality of the Can-Am Challenge section a 7 on a scale of 1-10. However, Kyner says not to worry, "We've created three lines going into and around the Challenge. One line goes straight in, another goes through what we have set up as a "Mini Challenge", and the third goes up through a ravine, avoiding the Can-Am Challenge. That way riders have a choice to go around if they don't think they can get through it," stated Andy. The woods section of the track also promises to have a few surprises as well, including some mild motocross jumps and natural terrain jumps incorporated into the track.
The 10 Hour ATV race will concluded at 10PM, and the 1st Place Pro ATV Team & 1st Place Pro Utility ATV Team, will each receive $7,500 sponsored by GBC Motorsports, and rest of the Pro racers will receive a 100% payback. Also, the 1st Place Pro Am ATV Team will receive $3,000 sponsored by PIAA
Also, we are excited to announce that every amateur that finishes in the top three will receive a trophy, and the class 1st place team racer will receive a 4 foot tall trophy thanks to all the following class sponsors: Precision Racing, Burgard Cycle, PowerMadd, T&T Motorsports, C&D Racing, Rekluse, Shrum Racing, Holz Racing, Zbros Racing, Moto Pro Training, All Balls Bearings, and Tucker Rocky.
Beyond trophies, there are plenty of contingency prizes up for grabs to all the participants from the class sponsors and more with Shift Racing, Western Powersports, HMF, Tireballs, DP Brakes, KLIM, EVS, Pro Armor, Hinson Racing, IMS Products, Race Tech Suspension, Custom Axis, ATVriders.com, and more all providing some valuable prizes and discount coupons.
Finally, for anyone who had concerns regarding having enough lighting in the pit area during the nighttime portion of the race, there will be plenty. One of the local high schools has donated their old football stadium lights that will be installed around the pit area to keep things well lit. Although the pit areas will be well lit, there will be sections of the track that will be quite dark and will require headlights. If riders are in need of lighting for their ATV or UTV, PIAA, C&D Racing and Trail Tech are all offering significant discounts for registered racers who will be participating in the GBC Heartland Challenge.
For those coming from out of town and who are not familiar with the Carlisle, IA area, there will be maps with directions to local restaurants, hotels and other amenities. The maps will be available at the registration booth. The GBC Heartland Challenge will be held in Carlisle, IA on November 6th-8th. For more information or to register online, please visit the GBC Heartland Challenge website at www.heartlandchallenge.com .


www.Heartlandchallenge.com