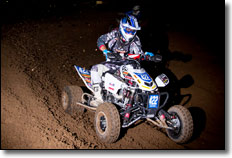 Maxxis / H&M Motorsports David Haagsma took both Pro Moto Wins at QuadX Speedworld MX earning him the top spot on the podium
Bakersfield, CA (10/5/2012) - H&M Motorsports / Maxxis Tire's David Haagsma secured his third straight overall win at Speed World MX for round eight of the Yamaha Quad-X Series, and teammate Beau Baron scored the third spot on the podium.
The track offered a variety of large jumps and the smooth track kept the racers moving at high speeds all day. The track was relatively hard to pass on and only offered one good line. Haagsma made it look easy, as he lead from gate drop to checkers in each moto.
"My Curtis Sparks motor was working great, it was so fast. I got both holeshots," said Haagsma.
David Haagsma pulled both Pro Holeshots aboard his Curtis Sparks Honda 450R ATV
Haagsma grabbed the holeshots both motos and held off the competition to secure both moto wins to top off a perfect 1-1 birthday weekend for Haagsma, which moved him within eight points of the points leader with two rounds of racing remaining on the schedule.
"Saturday was my birthday, so the win was a nice gift to me. I didn't have any issues, my Maxxis tires hooked up great and the Sparks motor pulled awesome," regarded Haagsma of his win.
#549 Beau Baron placed third overall at Yamaha QuadX Round 8
Teammate Beau Baron went 2-3 for the day. In the first moto, Baron got right in line behind his H&M teammate and kept pressure on for the entire moto with Baron finishing in the second spot for a 1-2 finish for the H&M Motorsports team.
"Davie (Haagsma) was riding really good. There just wasn't any room to make a pass of get around him," said Baron.
In the second moto Baron was third off the gate behind Haagsma and Nelson, and Baron attempted to make the pass for the second spot, but had to settle for a third place finish.
"I picked the pace back up near the end of the race and tried to pass Nelson. I took an inside line and pinned it, but ended up plowing into his rear tires on accident. He was able to hold on to second and I stayed in third. My Maxxis tires hooked up awesome and my setup keeps getting better and better," said Baron.
The H&M Motorsports / Maxxis Tire's team looks to close in on the points lead at Cahuilla Creek MX in Anza, California on October 21st for round nine of the 2012 Quad X series.
H&M Motorsport's 2012 Sponsors:
Maxxis Tires, HP Dairy, Roll Design, Elka Suspension, Curtis Sparks Racing, IMS Products, JR Publications, FLY Racing, EKS Brand Goggles, Leatt, Works Connection, DWT, K&N Filters, Precision Steering Stabilizers, Hinson Racing, FASST Co., Sunstar Sprockets, Ogio, Maxima Oils, Quad-Tech ATV, ODI Grips, Personal Edge Fitness, Tire Balls, CV Products, BOLT, Streamline Brakes, Baldwin Products & Gaerne Boots.....