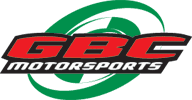 GBC Motorsports ATV Racers Take Podium in Dirt Series Round 5
GBC's Dillon Dixon Wins at Race Town 395 with Bomb Squad MX Tires
Anaheim, CA (8/24/2012) - GBC Motorsports was in full race mode this past weekend as two major race series took the southwest United States by storm.
The Dirt Series Round 5 – Race Town 395 – Adelanto, CA
The popular Dirt Series has been enjoying growing success in its inaugural year this summer as Round 5 took competitors to Adelanto, CA and Race Town 395. GBC riders have enjoyed a solid season of racing aboard their Bomb Squad MX tires.
GBC's Dylan Dixon is paving the way with a victory in every round he's raced so far this season. Round 5 was no different as the Quad 450 Pro racer took first once again for a commanding lead in the series standings.
Fellow GBC rider Joey Berg is following Dixon's cues, winning his third race of the season in four appearances at Race Town. Berg sits in second in the Quad 450 Pro-Am standings with just three rounds to go.
Javier Palacios experienced some difficulties and did not finish the race. He does, however, hold on to his top spot in the Quad Open standings. Justin Luna finished 4th in the Quad 250 Open class and holds the same spot in the standings.
Justin Christensen won his third straight Quad 450 Intermediate race and enjoys a commanding points lead.
GBC's Kayla Smith decided to make the jump to the UTV 1000 class after dominating the UTV 700 class through the first half of the season. The increase in competition didn't seem to affect her as she went on to enjoy a victory aboard her GBC Dirt Commanders.
The next round of the Dirt Series takes racers and spectators to the Route 66 Motorplex in Victorville, CA on Sunday, September 2nd.
Best in the Desert – Vegas to Reno - ATV & SxS Race
The Best in the Desert series includes some of the toughest long-distance desert races in the world. "Vegas to Reno" is one of the premier events in the series and is billed as the longest off-road race in the United States. From desert silt beds to mountain trails, the 534-mile race traverses the most extreme terrain Nevada has to offer.
Rocker Head and Cory Peterson represented GBC Motorsports in the UTV class as the duo piloted their Kawasaki to a 9th place finish.
For more information on GBC Motorsports and their ATV and UTV tire lines, visit www.gbcmotorsports.com. Follow us on Facebook at www.facebook.com/gbcmotorsports or on Twitter at www.twitter.com/gbcmotorsports for the latest news, updates and contests.