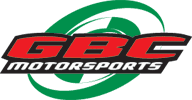 2011 GBC Motorsports Announces ATV Motocross Racer Support
GBC is Looking for ATV MX Riders for 2011 Racing Season
Anaheim, CA (2/7/2011) - GBC Motorsports is calling out to all ATV MX racers. With the release of our ground breaking new Bomb Squad MX tire we are looking to expand our roster of athletes to include those who enjoy shredding a berm, and spending more time in the air than on terra firma.

So if you are an ATV MX racer or series promoter interested in building a relationship with a rapidly growing performance tire company then please send your resume to: sponsorship@greenball.com
Resumes will be accepted through March 15th 2011.
You can find more information about GBC motorsports products by visiting our website www.gbcmotorsports.com or by visiting the GBC Motorsports facebook page.
About GBC Motorsports
GBC Motorsports evolved out of Greenball Corporation (www.greenball.com), which has been in the specialty tire industry for more than 30 years. ATV tires were first built by Greenball in 1980. Then in 1995, GBC Motorsports was formed to focus on bringing to the ATV and Powersports market performance tires for every riding style. GBC's passion is to provide the highest quality and most innovative performance tires to the Powersports enthusiast.