DragonFire Fire Extinguiser Mounts for SxS / UTVs
DragonFire Quick-Release Single-Pin Fire Extinguisher Mounts Released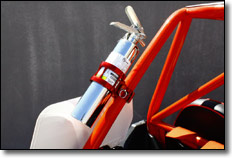 DragonFire Fire Extinguiser Mounts for SxS / UTVs are available in anodized red, black, and blue

Mesa, AZ (7/11/2012) - The hottest product in the DragonFire collection is actually pretty cool… literally. The new billet fire extinguisher mounts are a must-have add-on for virtually any UTV. With this in mind, the adjustable clamp set-up allows for you to mount this important piece of equipment to nearly any diameter size roll cage tubing.

"Kind of ironic to introduce these fire extinguisher mounts when we are always telling people to 'Feel The Heat' isn't it," says Sales & Marketing Manager Brice Ginn. "However when you have too much heat, our new single-pin quick-release fire extinguisher mount makes it possible to cool things off in a hurry!"

DragonFire's quick release billet fire extinguisher mounts accommodate a standard 2.5 pound fire extinguisher* with both style and functionality. On the style side, the lightweight billet mounts come in a choice of black, red or blue anodized finishes for a distinctive look. When it comes to functionality, the single-pin design makes for quick and easy access, even when the pressure is on! In fact, the single-pin quick release system works so well, several of the racing sanctioning bodies have already approved it for competition use.

"Legal for racing; great for recreation and perfect for adventure touring applications… don't go out without one," suggests Ginn. The mounts are engineered to work with tubes from 1.5- up to 2-inches in diameter. This range of sizing encompasses most makes and models of UTVs, including the new Arctic Cat Wild Cat, Can-Am Commander, Kawasaki Teryx, Yamaha Rhino and popular Polaris RZR.

Features:
Multi-size tube fitment
Single pin quick-release
Durable anodized finishes in a choice of colors: red, black, blue
Uses standard 2.5 pound fire extinguisher
Torture tested to withstand off-road abuse
Whether you want to build a vehicle versatile enough to run the Rubicon trail, race-ready to tackle the Mint 400, or just want to personalize your ride, DragonFire has you covered. Click on www.dragonfireracing.com to see all the DragonFire components and be sure to check out the blog updates and "Like" DragonFire
on Facebook to Feel The Heat!
MSRP $129.99
*Kit Does Not Include Fire Extinguisher - Sold Separately
About DragonFire Racing: The name says it all! DragonFire continues to crank up the heat when it comes to the best products in the UTV business. DFR has everything from engine and suspension components to bolt-on accessories! We feel your passion, so when you think of UTV parts and accessories think of the Dragon… and feel the heat!RZR, Kawasaki Teryx and Arctic Cat Prowler.

www.DragonFireRacing.com
2330 W. Broadway Rd, #112
Mesa, AZ 85202 (800) 708-9803
Discuss this in ATVriders.com Forum