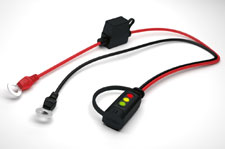 CTEK ATV Battery Power Level Indicator Eyelet
Twinsburg, OH (6/18/2012) -
Knowledge is power. With CTEK's Comfort Indicator Eyelet attached to a battery and positioned within sight, at a glance, it clearly shows whether the battery produces enough power to fire up a bike's motor.
Gauging voltage level in a simple, three-level system familiar as a stoplight, the $11.99 Comfort Indicator can prolong battery life expectancy by helping keep it properly charged and telling when the harmful sulfation process is underway as the power unit loses juice.
Always on, a Comfort Indicator Eyelet's green light reading means that the battery is good to go and doesn't need charging. The yellow glow is a slow-down warning that it could use a refreshing but is at a safe voltage level. A red light indicates that the near-exhausted power unit is discharged to the point where it's being damaged and needs a thorough charge.
These lights are encased in a 2-inch, waterproof, rubber body that offers a no-slip grip. Its eyelet-style connectors attach to batteries with nearly two feet of black and red 16-gauge wire that allows convenient placement on motorcycles, ATVs, watercraft and snowmobiles. A 15-amp, inline fuse ensures safe charging. Underneath the 1-ounce unit's attached dust cap is a quick-release plug that connects to a selection of CTEK battery chargers, enabling pain-free charging without hooking up to difficult-to-access batteries every time they need to be refreshed.
Please visit SmarterCharger.com for more information about CTEK's innovative product line or e-mail
Marketing@CTEK.com
. Additional company-related news and information is available on its Facebook page, Twitter postings and YouTube channel.
About CTEK:
CTEK Power Inc. designs and develops a unique series of high-tech battery chargers and special solutions for all types of lead-acid batteries for both private and professional use. Supplied to the most prestigious automotive and PowerSport manufacturers in the world, CTEK chargers use a unique charge algorithm to create a new category of battery charger. These new battery chargers satisfy not only today's high demands on battery care, but also take the increasing needs of the growing group of new users into consideration. Over four million CTEK battery chargers have been sold in 60 countries throughout the world.