2013 Can-Am Sport, Utility ATV, & Side-by-Side Lineup
Can-Am DS450 X MX, Outlander, & Commander SxS / UTV Updated
2013 Can-Am ATV / SxS Links

Valcourt, Canada (6/4/2012) - For model year 2013 Can-Am is updating and improving several popular models in their extensive ATV & Side-by-Side line up including the Can-Am DS 450 X MX, Commmander 800R, & Commander 1000 SxS / UTV. Next-generation Can-am Outlander MAX 1000, 800R, 650, 500 ATVs

2013 Can-Am Outlander MAX 650 DPS
Utility ATV Model

Inspired by the award winning, awe-inspiring, redesigned Outlander 1000 and 800R ATVs, the 2013 Can-Am Outlander MAX models now feature the second-generation Surrounding Spar Technology (SST G2) frame that offers unmatched comfort and improved performance as well as improved ergonomics for the passenger. BRP will offer the all-new Can-Am Outlander MAX platform with four different displacement levels, including the unrivalled engine performance of the 976cc Rotax V-Twin powerplant. Next-generation Outlander 650, 500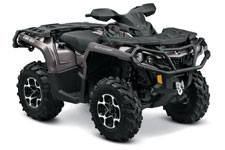 2013 Can-Am Outlander 650 XT
Utility ATV

The new line of Outlander 650 and 500 ATVs are now available with the highly innovative second-generation SST frame and other significant Outlander upgrades for 2013. The affordable DPS package models include Dynamic Power Steering, Visco-Lok QE and cast-aluminum wheels as well as proven, class-leading powertrain choices to go with the improved ride quality and enhanced comfort from the second-generation updates. Next-generation 2013 Can-am Outlander 1000 X mr

2013 Can-Am Outlander 1000 X mr Utility ATV NEXT G-1 Vista camouflage

Adorned in either a new signature yellow and-black X-package graphic scheme or a scratch-resistant NEXT G-1 Vista camouflage finish, the new Outlander 1000 X mr is outfitted for success in extreme environments and is based off of the Outlander 1000 MAX platform. Complete with a larger, relocated radiator, CVT intake, CVT exhaust and engine air intake mounted high on the frame, 30-inch Gorilla Silverback tires, ITP wheels, Air-Controlled Suspension system and a new hightech analog / digital gauge package, this off-road beast is ready for any muddy challenge. Next-generation Can-am Renegade 500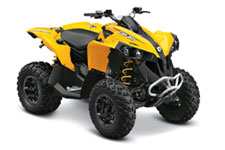 2013 Can-Am Renegade 500 Sport Utility ATV

The 2013 Can-Am Renegade 500 is the latest 4x4 crossover ATV from BRP to undergo the transformation to the updated chassis. Newly dressed in yellow, the revamped Renegade 500 now features the proven second-generation SST G2 frame mated to its proven SOHC Rotax V-Twin engine (now with 15 percent more power), Visco-Lok auto-locking front differential system and RS-Type suspension package.

Can-am Outlander / Outlander MAX DPS Models
The Outlander DPS models have BRP's innovative Dynamic Power Steering (DPS) system, cast-aluminum wheels and more at a great price. DPS features three modes (MIN, MED, MAX) to let riders be in command of the amount of steering assist they need for terrain, conditions or personal preference.
2013 Can-Am Outlander MAX XT-P is now based on the 2nd Generation Chassis

The system, which offers variable steering assistance in any mode, offers more assist at low speeds and less at high speeds. An Outlander MAX without DPS is also available. Outlander XT-P / Outlander MAX XT-P packages Available in both single-rider and two-up configurations, the Outlander XT-P and Outlander MAX XT-P now are based of the new second-generation chassis and improved comfort levels. Also for 2013, the XT-P models, available with the 800R and 976cc EFI-fed Rotax engines, receive the same updated analog / digital gauge package to bolster their sporty makeup.

On top of the XT package upgrades, these also receive FOX Podium Performance RC2 piggyback dual-speed compression adjustable shocks, 12-inch aluminum beadlock wheels and racing-style handlebars with full-wrap wind deflectors and grips. The painted black / flat black and yellow color scheme is also exclusive to this line of Can-Am ATVs.