Can-Am DS450 ATV Racer Cam Reimers Returns From Injury
Fun Valley Moto X Series - Round 3 & 4 - Montezuma, IA - June 16-17, 2012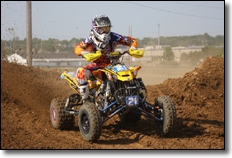 Coming right off an injury Cam Reimers swept all 4 overalls at Fun Valley Moto X Rounds 3 & 4

Ogden, IA (7/25/2012) - After just 14 weeks since suffering a broken tibia and fibula in his right leg, Cam Reimers is back aboard his Can-Am and winning races. The Iowa rider swept all 4 overalls at the 3rd and 4th rounds of the Fun Valley Moto X Series in Montezuma, IA.

Prior to Fun Vally Moto X round 3 and 4, Reimers has been playing the role of team manager as he watched replacement rider Zach Harris pilot the DS450 to several dominating rides in the District 22 Motocross Series.The Illinois rider managed to tally 11 overall wins within a few short months.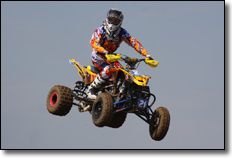 #21 Cam Reimers airs out his Can-Am DS450 Sport ATV
Harris had this to say about his time as a fill-in rider: "I had a great time working with the CR21/Can-Am team; the program they have is very professional and they wanted to win just as much as I did. They have the Can-Am's working so well and I felt very comfortable on them. It was a great experience and hope to have another opportunity in the future."
Although the team was successful with the Harris, Reimers was anxious to get back as soon as possible. The initial expected return date for Reimers was to be later this fall, but after just 12 short weeks, he was released. As soon as he got the release, the Iowa rider was back on the training grind. "It's good to be back on the bike after such a long break, but it's very tough to get back in the groove because a day of riding is pretty painful and requires 2-3 day rest. This is the time of year that all of the other riders seem to have a lot of speed and good fitness. I am just ready to be able to put in consistent motos everyday so I can get back to their level," said Reimers.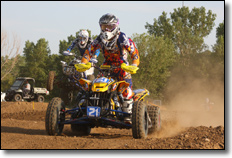 Cam Reimers grabbed 6 out of 8 holeshots aboard his Motoworks powered Can-Am DS450 ATV

Even though they were considered to be behind the 8 ball, the CR21/Can-Am team still decided to compete in the District 22 Motocross Series this past weekend at rounds 3 and 4 at Fun Valley Moto X. Feeling mentally ready, Reimers felt that it was imperative to find out how he felt physically at a race pace.

He quickly found out as he grabbed 6 out of the 8 holeshots aboard his Hicklin Powersports DS450 and claimed all 4 overall wins in the premier classes, Quad A Open and Quad A Production throughout the weekend. "I am very excited about the weekend we had," said Reimers.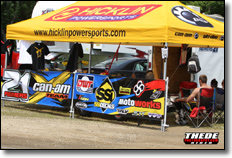 CR21 / Can-Am ATV MX Pits at Fun Valley Moto X in Montezuma, IA
"Thanks to Wiseco for hooking us up with a new piston setup, we ripped some really good starts and had a lot of improvement from Saturday to Sunday with my speed. That being said, we are still not quite where we need to be, but are determined to do what is needed to get back to 100 percent."
"I definitely have to give a shout out to all of the great sponsors that make it possible: Can-Am, HicklinPowersports, Motoworks, DWT, SSi Decals, Fly Racing, Jett Boots, CheapTearoffs.com, CTO Goggles, Freshletes Clothing,Wiseco,Rath Racing, TiLube, Precision, Fox Racing Shox, K&N Filters, CR21 Performance, BCS Performance, L16 Films, and Thede Photography. Also a big thanks to my family, friends, and everyone else who has been behind me; it feels good to be back!"
Bombardier Recreational Products Inc. (BRP)
a privately held company, is a world leader in the design, development, manufacturing, distribution and marketing of motorised recreational vehicles. Its portfolio of brands and products includes: Ski-Doo and Lynx snowmobiles, Sea Doo watercraft and sport boats, Evinrude and Johnson outboard engines, Can-Am all terrain and side-by-side vehicles and roadsters, as well as Rotax engines. BRP products are distributed in more than 100 countries