Can-Am DS450 ATV Racer Joel Hetrick Second at Sunday Creek MX
AMA ATV MX Championship - Round 7 - Sunday Creek - June 30, 2012
Motoworks / Can-Am DS 450 Pro racer Joel Hetrick, who was the fastest qualifier, won moto one & finished second overall at Sunday Creek Raceway in Ohio

Valcourt, Québec (7/6/2012) - Motoworks / Can-Am® DS 450™ racer Joel Hetrick finished second at round seven of the AMA ATV Motocross Championship Series, while teammate and defending champion John Natalie finished fourth. In the New England ATV Motocross Series (NEATV-MX), BCS Performance / Can-Am racer Josh Creamer won both the Pro and Pro-Am classes at round six.

"Our Can-Am racers battled the heat and elements to bring home some impressive top finishes at the AMA ATV MX Nationals and at the NEATV MX regional series," said Jimmie O'Dell, Race Manager, Can-Am. "Joel Hetrick was clearly a top performer all weekend in Ohio, as he was the fastest qualifier, won moto one, earned second in moto two and took second overall in the Pro class. I was proud of the way he battled back from a poor start in the second moto to finish second overall. Defending Pro class champion John Natalie had a difficult time adapting to the track at round seven, but still sits in second in the points race with three rounds remaining. Josh Creamer continued his dominance in the NEATV series, convincingly winning all four motos he entered. We're excited to have him join John and Joel in Unadilla for round eight of the AMA ATV MX series."



AMA ATV MX - Round 7 - Sunday Creek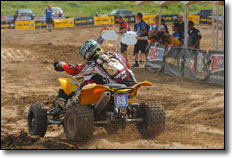 Joel Hetrick recorded 47 points & is still in sole possession of third place in the Pro class points race

The Sunday Creek Raceway track was rough and riders were having a tough time finding the perfect machine set-up. To add to the tough conditions, the temperatures were near 100 degrees with high humidity, causing fatigue for many racers. After posting the fastest lap in timed qualifying, Hetrick came off the line for moto one in second place. By lap three, he had taken over the lead. From there, Hetrick extended his lead and eventually won the moto by almost 10 seconds. It was his second moto victory of 2012. Natalie, coming off back-to-back wins at the previous two rounds, started fourth in moto one and then picked up another spot a few laps later. He ended the moto in third place.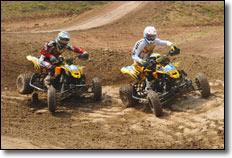 Motoworks / Can-Am teammates, John Natalie — the defending national AMA ATV MX champion — & #88 Joel Hetrick finished fourth & second, respectively, at Sunday Creek

Hetrick had too much wheel spin at the start of moto two and came out in eighth place. However, he soon passed his way into fourth, behind Natalie. Hetrick stayed behind him for a couple of laps, before making a pass for the third position. He then went after the second-place racer. After a few failed passing attempts, Hetrick made one stick and was in second and in hot pursuit of the race leader. The Can-Am racer had reduced the leader's gap to just two seconds by the final lap, but ran out of time to challenge him before the checkers flew. Hetrick had to settle for a 1-2 finish and second overall. Natalie ended the second moto in fifth place to earn fourth overall for the day.

"It was hard to pass out there, but I got around and caught up. It took a lot out of me and I got a little tired, but I gave it my all out there and I made it on the podium, so I'm pretty happy overall," said Hetrick. "This [finish] really helps me in points and I just want to go out there and keep winning motos."

Travis Spader (BCS Performance / Can-Am) won the Open A, Junior 25+ and Vet 30+ classes and took second in the 4-Stroke A class. Can-Am X-Team racer Chase Henry was third overall in the Production A class, posting 4-2 moto scores.


NEATV-MX - Round 6 - MX 207



Josh Creamer went 4-for-4 in moto wins at MX-207 in Maine to extend his class points lead in both the Pro & Pro-Am classes in the NEATV-MX series

Creamer once again dominated both the Pro and Pro-Am classes, grabbing three out of four holeshots and winning all four motos, at round six of the NEATV-MX series, which was held at MX 207 in Maine. Creamer won the first Pro class moto by almost 15 seconds. He grabbed the second-moto holeshot and never relinquished the lead on his way to another 1-1 sweep in the series.

The Pro-Am class played out very similarly for Creamer, as he took both holeshots and led both motos from start-to-finish and posted another convincing victory. Creamer, a former AMA ATV Pro MX Champion, plans to compete at the Unadilla, N.Y., round of the AMA ATV Motocross series on July 14th. Along with fellow Can-Am Pro class racer Richard Pelchat from Canada, Creamer will compete in the Pro class with Natalie and Hetrick.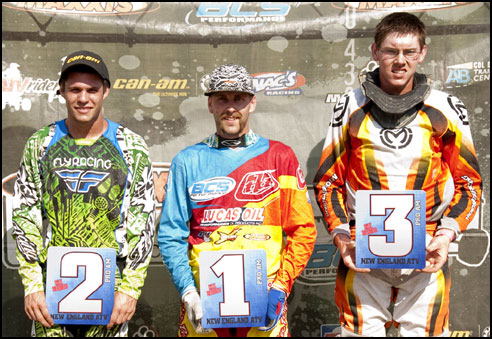 In the NEATV-MX Pro-Am class, Josh Creamer took the win and was joined on the podium by Can-Am racers Michael Troiano & Adam Trafford



For more information on Can-Am racing, the entire 2012 schedule, the '12 contingency program and DS 450 amateur racer support program, please visit www.can-amxteam.com.

Bombardier Recreational Products Inc. (BRP)
a privately held company, is a world leader in the design, development, manufacturing, distribution and marketing of motorised recreational vehicles. Its portfolio of brands and products includes: Ski-Doo and Lynx snowmobiles, Sea Doo watercraft and sport boats, Evinrude and Johnson outboard engines, Can-Am all terrain and side-by-side vehicles and roadsters, as well as Rotax engines. BRP products are distributed in more than 100 countries