Motoworks/Can-Am DS450 ATV Racer John Natlie Wins Ballance MX
AMA ATV MX Championship - Round 5 - Ballance Moto X - June 2, 2012
John Natalie won both AMA ATV MX Pro Motos aboard his Can-Am DS450 Sport ATV at Ballance MX

Valcourt, Québec (6/6/2012) - John Natalie notched his first overall win of the 2012 AMA ATV Motocross National Championship Series under the lights at Ballance Moto X in Oakland, Ky. Natalie, the defending AMA ATV MX Champion, won Pro both motos on his factory Motoworks / Can-Am® DS 450™ and climbed to within 15 points of first place in series points. DS 450 pro Joel Hetrick recorded a solid third-place finish to join his teammate on the Pro class podium.

"The Motoworks / Can-Am team had a great weekend at round five of the AMA ATV MX National Series in Kentucky. Our Can-Am pro racers had a tremendous Saturday night, dominating the second moto and earning first and third overall. John Natalie rode brilliantly on his Can-Am DS 450 and truly earned the top spot on the podium with a history-making win at the first-ever night race for AMA series. He was in true championship form," stated Jimmie O'Dell, Race Manager, Can-Am. "Fellow Motoworks / Can-Am DS 450 racer Joel Hetrick earned third overall to maintain his third-place position in the standings. Can-Am amateur class racers also won a total of six classes aboard the DS 450 in Kentucky."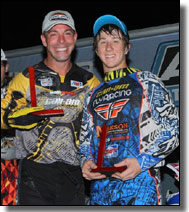 Can-Am's Joel Hetrick placed third overall joining his teammate John Natalie on the Pro Podium
The Kentucky race marked the first time in the history of the AMA ATV MX series that the races would be held at night under the lights. Past Grand National Championship TT races have been held under the lights, but never a motocross event. Motoworks / Can-Am pilot John Natalie excelled aboard his DS 450 during the evening racing at Ballance Moto X. After posting the fastest qualifying time, he came out of the first-moto gate in second place. He quickly passed for the lead and then fought off one challenger before notching his first moto victory of 2012. He followed up that win by earning the moto two holeshot and, after being pressured by his teammate Hetrick, leading the entire race for a 1-1 moto sweep.
John Natalie excelled during the day and under the light in the first ever AMA ATV MX night race

"I had a great weekend. I had a great night and I am really happy to take the win here. This was really a unique race for us and is one for the history books and I am glad to put Can-Am on top of the podium for it," said Natalie.

Hetrick, who earned third overall with his 4-2 moto finishes, ended the second moto just two seconds behind Natalie as the Motoworks / Can-Am tandem dominated moto two. The Pro class podium in Kentucky was Hetrick's fourth trip to the box in five rounds, including one overall victory. He now securely sits in third place in the Pro class standings after five rounds of racing.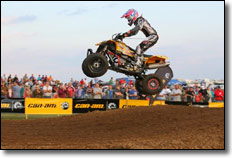 #88 Joel Hetrick launches his Motoworks / Can-Am DS450 Sport ATV
"Moto two went well for me. I followed John off the start and just rode a good race," said Hetrick. "It was a little different racing at night, but I didn't have any problems."
Can-Am X-Team member and DS 450 racer Merrill Crose won three of the four classes he entered, including the Open A, Vet 30+ and Junior 25+ classes. Amateur class racers Travis Spader (4-Stroke A), Chase Henry (College 16-24) and C.J. Dollarhide (4-Stroke B) also earned class victories aboard the Can-Am DS 450.
For more information on Can-Am racing, the entire 2012 schedule, the '12 contingency program and DS 450 amateur racer support program, please visit www.can-amxteam.com.
Bombardier Recreational Products Inc. (BRP)
a privately held company, is a world leader in the design, development, manufacturing, distribution and marketing of motorised recreational vehicles. Its portfolio of brands and products includes: Ski-Doo and Lynx snowmobiles, Sea Doo watercraft and sport boats, Evinrude and Johnson outboard engines, Can-Am all terrain and side-by-side vehicles and roadsters, as well as Rotax engines. BRP products are distributed in more than 100 countries