BCS Performance's Josh Creamer Third at Montreal Supermotocross
Monster Energy Supermotocross - Montreal Olympic Stadium - September 29, 2012
BCS Performance's Josh Creamer rounded out the 2012 Montreal Supermotocross Pro ATV Podium taking third place overall
West Springfield, MA (10/3/2012) - BCS Performance's Josh Creamer piloted his Can-Am DS450 to a podium finish at the 35th annual Monster Energy Supermotocross at the Olympic Stadium in Montreal, Canada.

Creamer got into his groove during Friday's practice. He put down several great laps, but had a little get off at the end practice, so he had to ice his ankle in order to be prepared and 100% for the main event on Saturday.

Creamer spent the main event laps battling with Thomas Brown. Creamer and Brown put on a show for the 20,000 plus fans as they continually passed each other. The Connecticut racer moved into second for a few laps after making a block pass on a step up-step down before the triple. Creamer and Brown kept their wheel to wheel battle exciting and near the end of the race Brown was able to make the pass stick in the same section where the battle began.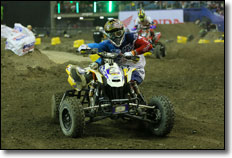 Josh Creamer battled to the finish line aboard his BCS Performance powered Can-Am DS450 Sport ATV
Creamer kept charging and claimed the final podium spot aboard his BCS Can-Am. "My BCS Can-Am worked awesome. There was a lot of lap traffic, but it was a good race" said Creamer.

The 35th annual event was a stellar time for everyone involved. Many American racers made the trip across the border and Creamer was happy that landed his BCS Performance Can-Am on the Podium.

"It was a great event, aside from BCS and my sponsors I want to thank Montreal Supermotocross for putting on such a great show. It was a really good time" regards Creamer.

Creamer will now focus his attention on final round of the NEATV-MX Series, which Creamer has already wrapped up both Pro & Pro-Am Championships, and next on Creamer 's radar is the New Zealand Motocross Championship in mid-October.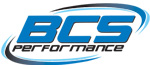 www.bcsperformance.com
161 Wayside Avenue
West Springfield MA 01089
413-736-2201