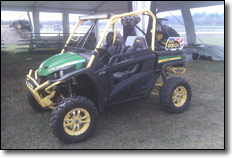 2012 John Deere RSX850i Sport Gator Side-by-Side
Maryland (11/21/2011) -
John Deere is known in the UTV market for making heavy duty work horse machines like the John Deere Gator. Until now, that was John Deere's main focus was to provide a utility side-by-side that could be used around the farm and on work sites.
We have heard rumors of a new sport oriented side-by-side to be released by John Deere in 2012. We recently uncovered a photo that has been leaked on the web of what appears to a sport side-by-side from John Deere that reads "RSX850i" on the DragonFire Racing number plates
The All-new RZR 850i Sport Gator is said to feature a powerful 850 V-twin engine. The drive system is also said to have no slack so there is instant throttle response when you hit the throttle.
We at ATVriders.com can not wait to get our hands on one of these and truly test out this All-new Sport Side-by-Side from John Deere.