Suzuki's Dustin Wimmer Dominates Unadilla Valley Sports
Honda's Joe Byrd 2nd, Jeremy Lawson 3rd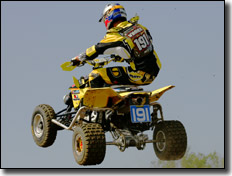 #191 Dustin Wimmer
Suzuki/MSR/ProTaper/Yoshimura/Red Bull

New Berlin, NY (7/29/2007) - Round 11 of the AMA Pro ATV Racing just wrapped up in New Berlin, NY at the famous Unadilla Valley Sports, and the track belonged to Red Bull Suzuki's Dustin Wimmer as he dominated the natural terrain motocross track by passing Joe Byrd for the lead both Motos.

The Pro Class once again had large turnout with 14 Pro Riders signing up, and among the list of Pros was Suzuki's Dustin Wimmer and Kawasaki's Josh Creamer on his KFX450R. Also, top Canadian riders, Richard Pelchat and Jasmin Plante made the short trip across the border, but the biggest surprise of them all was to see GNCC Pro & Quadterrain Pro racer, Chris Bithell sign up to compete in the AMA Pro Class. In a last minute struggle to get his Pro AMA license, Bithell earned spot on the Pro starting gate and immediately caught everyone's attention when he started launching "Sky Shot" among the other huge leaps of faith at Unadilla.

In the first Moto, Dasa Racing's Joe Byrd grabbed the Holeshot with Chris Tait and Travis Spader colliding, which left Tait bruised and battered. The race was Red flagged and Tait was taken off the track on a back board to have his injuries evaluated. It was fortunately determined that there were no major injuries and he was free to race the second Moto but couldn't race in the first Moto.

Upon the restart, it was once again Joe Byrd launching out front with the Holeshot. By the half way point of the race, Dustin Wimmer caught and passed Byrd to take over the lead. Byrd was then challenged by Lawson, but Byrd was able to remain in second followed by Lawson. Dustin Wimmer went on to win the race with ease over Byrd dealing with a cracked head on his Honda. Yamaha's Pat Brown finished in 4th followed by Canadian's Jasmin Plante. Richard Pelchat would end up wrecking and dropped back to a 13th place finish.

In the Second Moto, it was Byrd out front again with the Holeshot, but Byrd reportedly began to have mechanical issues early in the race and allowed Wimmer to make the pass for the lead. Wimmer once again pulled away from the pack. Byrd remained in second followed by Lawson. Plante finished out the Moto in 4th place ahead of Pelchat. Josh Creamer picked up a 6th place finish in the 2nd Moto, which secured him a 5th Overall on the weekend ahead of Travis Spader.

Pat Brown went down hard in the 2nd Moto, which sent him to the back of the pack finishing in 13th for the Moto and 8th Overall.

Chris Bithell rode strong both Motos going 10-7 for a 9th Overall finish in his first Pro ATV Motocross Race.

For Dustin Wimmer it was his first ATVA race event since his win at Echeconnee Off-Road Park in April. Despite missing the last six races, Wimmer remained in 9th place in points, and his win at Unadilla catapulted him up to 6th place in points ahead of teammate Doug Gust.

Joe Byrd's 2nd Place finish over Jeremy Lawson moves him even closer to wrapping up his second consecutive Pro Class Championship and the first ever AMA Pro ATV Championship.
ATVA MX Nationals - Pro ATV Race Results
Overall

Moto 1

Moto 2

Riders Name
Brand
1

1

1

Dustin Wimmer
SUZ
2

2

2

Joe Byrd
HON
3

3

3

Jeremy Lawson
HON
4

5

4

Jasmin Plante
YAM
5

9

6

Josh Creamer
KAW
6

7

8

Travis Spader
YAM
7

6

9

Michael Brown
HON
8

4

13

Patrick Brown
YAM
9

10

7

Chris Bithell
HON
10

13

5

Richard Pelchat
YAM
11

8

11

Dan Lewis
YAM
12

11

10

Rich Stambach
SUZ
13

12

12

Justin Bress
HON
14

14

14

Chris Tait
YAM
About the AMA ITP/Moose ATV National Motocross
Championship Series Presented by Parts Unlimited:
Sanctioned by the AMA and ATVA, the AMA ITP/Moose ATV National Motocross Championship Series is the nation's premier amateur and professional ATV motocross series, and is hosted by many of America's premier motocross facilities. The 12-round series approaches its 21st season with the Pro class newly under the wing of AMA Pro Racing. The 2006 series hosted over 8,000 entrants, making it America's largest and longest-running ATV National Motocross series. Series sponsors include title sponsors ITP Tires and Moose, and presenting sponsor Parts Unlimited. Premier and feature sponsors include ATV Sport, MotoTees, Scott USA, Maxxis Tires, Elka Suspension and H-Bomb Films/Division Four. Associate sponsors include Weekend Warrior Trailers, Denton Racing, and Hinson Racing. Media partners include ATV Insider, ATV Rider and ATVRiders.com.
About AMA Pro Racing:
AMA Pro Racing is the professional racing division of the American Motorcyclist Association ("AMA"). 2007 will mark the inaugural year for AMA Pro ATV Racing, as the sport's top pro riders will be recognized as professional-licensed racers by the AMA Pro Racing division. Founded in 1924, the AMA has an unparalleled history of pursuing, protecting and promoting the interests of the world's largest and most dedicated group of motorcycle enthusiasts. The AMA focuses on rights, riding and racing through its government relations work, by sanctioning road and off-road riding activities and overseeing professional and amateur racing events. For more information about AMA Pro ATV Racing, visit www.amaproracing.com.
About the ATVA:
The ATV Association ("ATVA") is the official sanctioning body of the amateur divisions of the ATVA ITP/Moose ATV National Motocross Championship Series Presented by Parts Unlimited. The 9,000 member ATVA is the sister organization of the 260,000 member American Motorcyclist Association ("AMA"). ATV racing has experienced phenomenal growth at the rate of 25% in the past two years alone, and continues to gain momentum and support, outselling off-road motorcycles annually. Each round attracts 600-700 racers who compete for bragging rights to one of 31 amateur national titles. For more information about ATVA, visit www.atvaonline.com.
About the ATVPG:
The ATVPG is comprised of the 12 individual promoters that host the AMA ITP/Moose ATV National Motocross Championships, presented by Parts Unlimited. The goal of the ATVPG is to raise awareness of ATV motocross through the production of professional and amateur championship racing events. For more information on the ATVPG and the ATV National events they produce, go to www.atvmotocross.com.