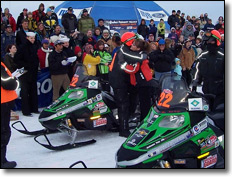 Todd & Sarah Palin on Arctic Cat Snowmobiles at Alaska Iron Dog Race
Thief River Falls, MN (10/17/2008) - Despite your political beliefs, you've probably seen that Sarah Palin's husband, Todd, is a 4-time champion of the worlds toughest 2,000 mile snowmobile race in Alaska called the Iron Dog. Todd is one of our Team Arctic snowmobile racers. This may be a point of interest for your websites or magazine blurbs, but Todd and his Team Arctic race partner, Scott Davis, will be touring northern Minnesota this week. One of their stops will be the Arctic Cat factory in Thief River Falls.

They will be talking to our employees about their snowmobile experiences aboard their F6 (600cc) race sleds. With that, there will be some exciting, alternative National media coverage; Entertainment Tonight will be filming at the Factory which is tentatively scheduled to air on Friday evening, October 17th. (Please check your local listings for times and channel) As well, Saturday Night Live is tentatively scheduled to do a Todd Palin/Arctic Cat skit that will broadcast Saturday, October 18th. The skit will feature full Team Arctic race gear, helmet and boots.

This may or may not be shortlived, but its cool to see some light being cast on Arctic Cat, the snowmobile industry and powersports in general.

If these segments make National air time, Ill make sure to send out some video clips and photos.

For more information on Todd Palin and the Iron Dog race, please visit www.irondog.org as well as www.arcticcat.com for more information on Team
Arctic racers. .

About Artic Cat:
Arctic Cat Inc. designs, engineers, manufactures and markets snowmobiles and all-terrain vehicles (ATVs) under the Arctic Cat brand name, as well as related parts, garments and accessories. For more information on Arctic Cat ATVs, please visit your local dealer or log on to www.arcticcat.com.